1,800 Calorie Vegan Meal Plan
A 1,800 calorie vegan diet, carefully planned, can promote healthy eating habits for individuals aiming for weight loss. Be mindful that calorie needs vary, hence caloric intake should align with personal goals and lifestyle.
Who should try this diet?
If you're focused on losing weight, a diet that aims for an average of 1,800 calories can be a highly effective approach. This calorie level provides ample energy to support your daily activities and exercise routines, while creating enough of a caloric deficit to encourage weight loss.
Of course, this amount of calories should only be followed by individuals with a moderate level of activity.
However! It's important to keep in mind that everyone's calorie requirements are unique. Therefore, determining the appropriate daily calorie intake based on your specific goals, whether it be losing fat, building muscle, or adopting a healthy lifestyle, is paramount for success.
If following this style of meal plan creates unwanted weight loss, it may be necessary to increase total calories consumed accordingly.
Realized that perhaps you need to be eating more calories? Try one of these free meal plans:
1,900 Calorie Vegan Meal Plan
2,000 Calorie Vegan Meal Plan
Example plan
We've provided a printable 1,800 calorie vegan meal plan PDF, including recipes for breakfast, lunch, dinner, and snacks. It's structured over 5 meals (3 mains and 2 snacks).
Download the meal plan in the link above or continue reading for recipes.
Provides 1,776 kcal, 117g Protein, 175g Carbs, 76g Fat per day.
Breakfast
Coco Loco Nutty Smoothie
Ideally, use a chilled or even a frozen banana for this splendid mix of nutty goodness. 
Calories and Macros
555 Calories
37g Protein
58g Carbohydrates
22g Fat
Ingredients
1 Banana
50 ml Coconut Milk Drink (carton)
30 grams Oats
250 ml Almond Milk
30 grams Vanilla Vegan Protein Blend (70%)
30 grams Peanut Butter (smooth)
Instructions
Step 1: Place the oats and milk into your favourite blender and allow to soften for about 1 minute before adding the remaining ingredients.
Step 2: Securely fasten the lid and blend thoroughly for around 15 – 30 seconds while gradually adding water (if necessary) to create desired consistency.
Step 3: Pour into a glass for a smoothie that will make you go a little nuts!
Lunch
Simple Mustard, Seitan, and Avocado Sandwich
This one shouldn't be too complicated to make; we're sure you've heard of a sandwich, right? 
Calories and Macros
519 Calories
38g Protein
43g Carbohydrates
23g Fat
Ingredients
110 grams Seitan
2 slices Whole Grain Bread
1/2 Avocado
1/2 Tomato
1 leaf Iceberg Lettuce
2 tsp Olive Oil
1/2 tsp Garlic Powder
1/2 tsp Dijon Mustard (whole grain)
1/4 tsp Chili Powder

Instructions
Step 1: Marinate your seitan slice in the olive oil, the chili powder, and the garlic powder for about 5 minutes
Step 2: Pre-grill your marinaded seitan until it is cooked all the way through and then allow to chill in the refrigerator. 
Step 3: Lightly toast your whole grain bread to your preferred toastiness… (Toasting the bread removes the chances of a soggy sandwich!).
Step 4: Slice the tomato and avocado and get them ready for action.
Step 5: Layer all ingredients in whatever order you see fit. We personally went with lettuce, seitan, tomato, avocado, then mustard on the top slice!
Dinner
Ultimate Strength Salad
Calories and Macros
459 Calories
36g Protein
39g Carbohydrates
20g Fat
Ingredients
50 grams Mixed Salad Leaves
1 1/2 tsp Brown Sugar
30 grams Sun-Dried Tomatoes
4 tsp Olive Oil
1 tsp Dijon Mustard (whole grain)
120 grams Seitan
1 1/2 medium Carrot

Instructions
Step 1: Slice your seitan and lightly fry in 1/2 the olive oil. Peel and shred that carrot on the side.
Step 2: Whisk the sugar, mustard, and remaining olive oil to create a nice dressing.
Step 3: Toss the mixed leaves in a bowl with the sweet mustard dressing and place into a bowl.
Step 4: Layer the seitan, sun-dried tomatoes, and carrots on top and refrigerate for a few minutes to cool.
Step 5: Serve up!
Snack 1
Banana
Calories and Macros
105 Calories
1g Protein
27g Carbohydrates
0g Fat
Ingredients
1 Banana
Snack 2
Cashew Nuts
A handful of health!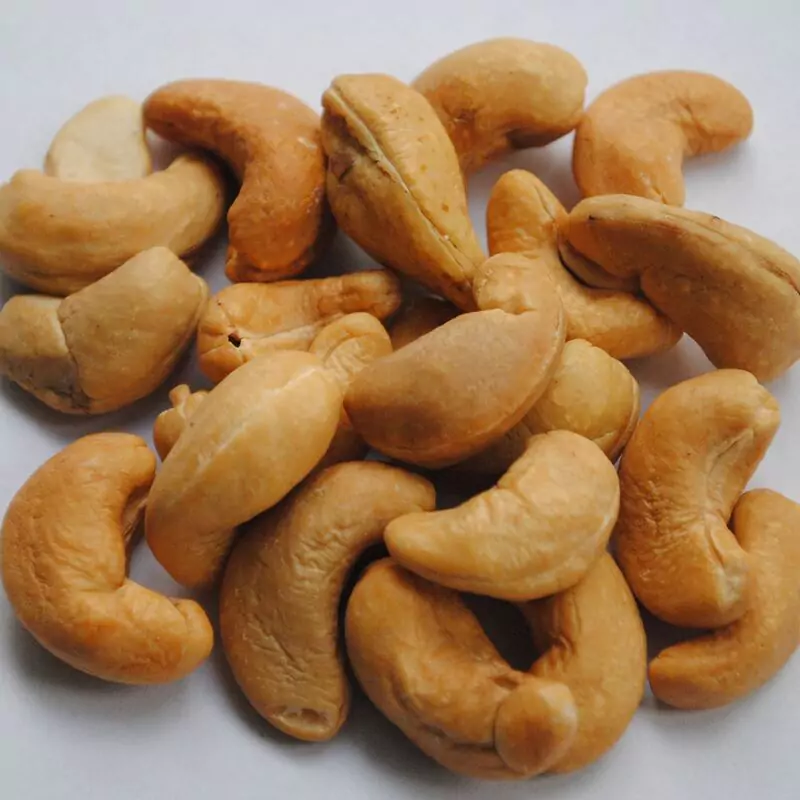 Calories and Macros
138 Calories
5g Protein
8g Carbohydrates
11g Fat
Ingredients
25 grams Cashew Nuts
So, there you have it! A balanced, nutritious, and delicious 1,800-calorie vegan meal plan. Enjoy!