2,000 Calorie Vegan Meal Plan
A 2,000 calorie vegetarian diet, carefully planned, can promote healthy eating habits for individuals aiming for weight loss or maintenance. Be mindful that calorie needs vary, hence caloric intake should align with personal goals and lifestyle.
If you are trying to lose weight, this amount of calories should only be followed by individuals with a higher level of activity.
It's important to keep in mind that everyone's calorie requirements are unique. Therefore, determining the appropriate daily calorie intake based on your specific goals, whether it be losing fat, building muscle, or adopting a healthy lifestyle, is paramount for success.
Realized that perhaps you need to be eating less calories? Try these free meal plans:
1,600 Calorie Vegan Meal Plan
1,700 Calorie Vegan Meal Plan
1,800 Calorie Vegan Meal Plan
1,900 Calorie Vegan Meal Plan
Example plan
We've provided a printable 2,000 calorie vegan meal plan PDF, including recipes for breakfast, lunch, dinner, and snacks. It's structured over 5 meals (3 mains and 2 snacks).
Download the meal plan in the link above or continue reading for recipes.
Provides 1,968 kcal, 130g Protein, 176g Carbs, 92g Fat per day.
Breakfast
Mediterranean Burrito
Loaded with protein and Mediterranean flavour!
Calories and Macros
630 Calories
31g Protein
65g Carbohydrates
30g Fat
Ingredients
100 grams Tempeh
1 tsp Olive Oil
2 Whole Wheat Tortillas
10 grams Baby Spinach
10 grams Sun-Dried Tomatoes
25 grams Vegan Cheddar Cheese
5 grams Black Olives
40 grams Black Beans (canned)
Instructions
Step 1: Heat your oil in a non-stick pan over a medium temperature
Step 2: Chop the tempeh into 1-cm cubes and lightly season in a bowl!  
Step 3: Lightly fry the tempeh for about 5 minutes, slice up your black olives, sun-dried tomatoes, and spinach on the side 
Step 4: Throw the olives, spinach, tomatoes, and beans into the pan along with the tempeh and toss together 
Step 5: After about 2 minutes of cooking, add the sliced cheddar to the party
Step 6: Once the cheese has melted a little, lay out your tortilla and evenly spread the mixture onto each
Step 7: Roll up and serve with a little hot sauce on the side (because you're damn spicy)
Et Voilà! 
Lunch
Simple Mustard, Seitan, and Avocado Sandwich
This one shouldn't be too complicated to make; we're sure you've heard of a sandwich, right?
Calories and Macros
591 Calories
41g Protein
47g Carbohydrates
29g Fat
Ingredients
120 grams Seitan
2 slices Whole Grain Bread
3/4 Avocado
1/2 Tomato
1 leaf Iceberg Lettuce
2 tsp Olive Oil
1/2 tsp Garlic Powder
1/2 tsp Dijon Mustard (whole grain)
1/4 tsp Chili Powder

Instructions
Step 1: Marinate your seitan slice in the olive oil, the chili powder, and the garlic powder for about 5 minutes
Step 2: Pre-grill your marinaded seitan until it is cooked all the way through and then allow to chill in the refrigerator.
Step 3: Lightly toast your whole grain bread to your preferred toastiness… (Toasting the bread removes the chances of a soggy sandwich!).
Step 4: Slice the tomato and avocado and get them ready for action.
Step 5: Layer all ingredients in whatever order you see fit. We personally went with lettuce, seitan, tomato, avocado, then mustard on the top slice!
Dinner
Sautéed Garlicky Tofu and Mushroom Power
Are you ready for something delicious that's going to fill you up for hours to come?
Calories and Macros
458 Calories
26g Protein
32g Carbohydrates
29g Fat
Ingredients
3 tsp Olive Oil
150 grams Tofu
1 tsp Dried Oregano Leaves
1/2 tsp Garlic Powder
1/2 tsp Onion Powder
1/2 tsp Paprika
1 medium Onion
2 cloves Garlic
1 Green Bell Pepper
125 grams White Button Mushrooms
1 tsp Parsley

Instructions
Step 1: The first thing you're going to do is chop up the tofu, the onion, the bell pepper, and the mushroom into bite-size cubes.
Step 2: Then, finely chop the garlic and parsley.
Step 3: Heat half the olive oil in a medium-sized pan over a medium to high heat.
Step 4: Once heated, add the tofu and allow to lightly brown before adding the oregano, garlic powder, onion powder and paprika. Allow all spices to evenly coat the tofu before seasoning with a little salt and pepper.
Step 5: After about 5 minutes, when the tofu is cooked through, place in a bowl and set aside.
Step 6: Using the same hot pan, add the remaining oil, onion, and garlic allowing those wonderful fragrances to fill the kitchen.
Step 7: After about 3 minutes of taking in that smell of deliciousness, add the mushrooms and bell pepper to the pan. Allow to soften over the course of another 3 – 4 minutes and then add the tofu back to the mix.
Step 8: Give these ingredients about 2 minutes of care before serving in your favourite bowl with a sprinkle of parsley on top.
Snack 1
Vanilla Protein and Refreshing Watermelon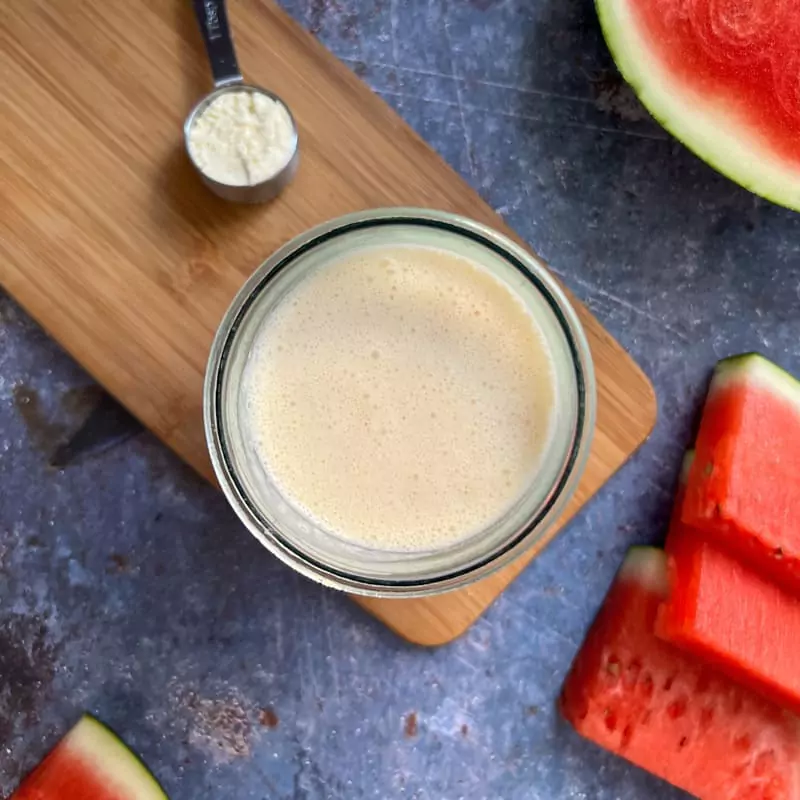 Calories and Macros
259 Calories
31g Protein
25g Carbohydrates
4g Fat
Ingredients
35 grams Vanilla Vegan Protein Blend (70%)
200 ml Soy Milk
150 grams Watermelon
Instructions
Step 1: Thoroughly mix the protein powder with the milk along with a little additional water if necessary.
Step 2: Serve up with the watermelon on the side!
This snack is one in a melon…
Snack 2
Strawberries
Is it a fruit? Is it a berry? Who cares.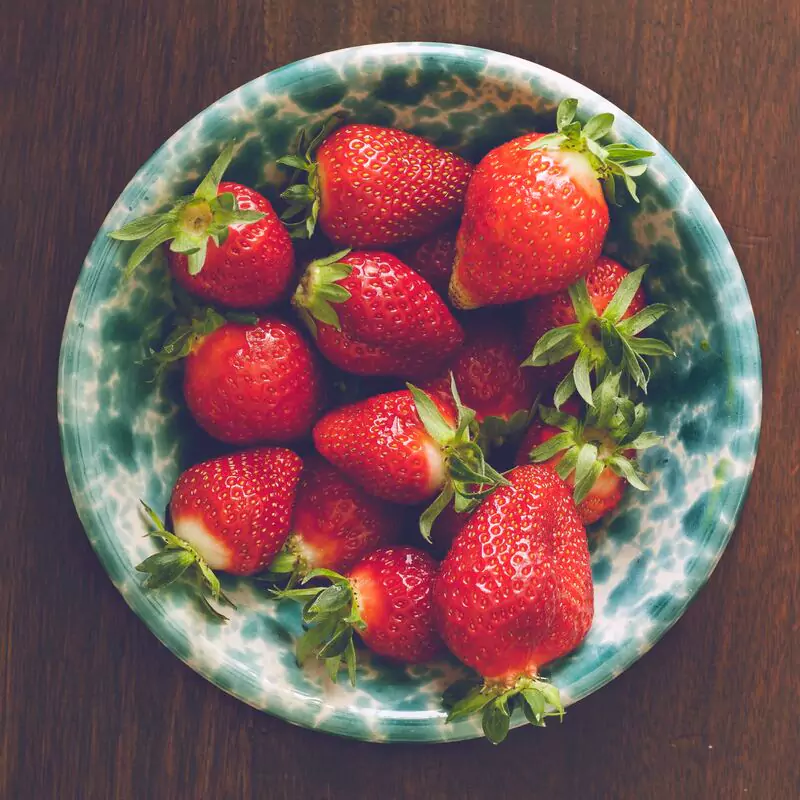 Calories and Macros
30 Calories
1g Protein
7g Carbohydrates
0g Fat
Ingredients
95 grams Strawberries
So, there you have it! A balanced, nutritious, and delicious 2,000-calorie vegan meal plan. Enjoy!