1,300 Calorie Gluten-Free Meal Plan
A 1,300 calorie gluten-free diet, carefully planned, can promote healthy eating habits for individuals with a lower activity level, aiming for weight loss. Be mindful that calorie needs vary, hence caloric intake should align with personal goals and lifestyle.
Who should try this diet?
People aiming for weight loss may find this low-calorie approach effective as it promotes a calorie deficit. However, if it leads to unwanted weight loss, consider adjusting your caloric intake.

1,400 Calorie Gluten-Free Meal Plan
1,500 Calorie Gluten-Free Meal Plan
1,600 Calorie Gluten-Free Meal Plan
Example plan
We've provided a printable 1,300 calorie gluten-free meal plan PDF, including recipes for breakfast, lunch, dinner, and snacks. It's structured over 5 meals (3 mains and 2 snacks).
Download the meal plan in the link above or continue reading for recipes.
Provides 1,308 kcal, 94g Protein, 122g Carbs, 55g Fat per day.
Breakfast
Frozen Strawberry Breakfast Protein Bowl
Are you ready for a morning treat that rivals coffee? This one will have you ready for the day in a jiffy.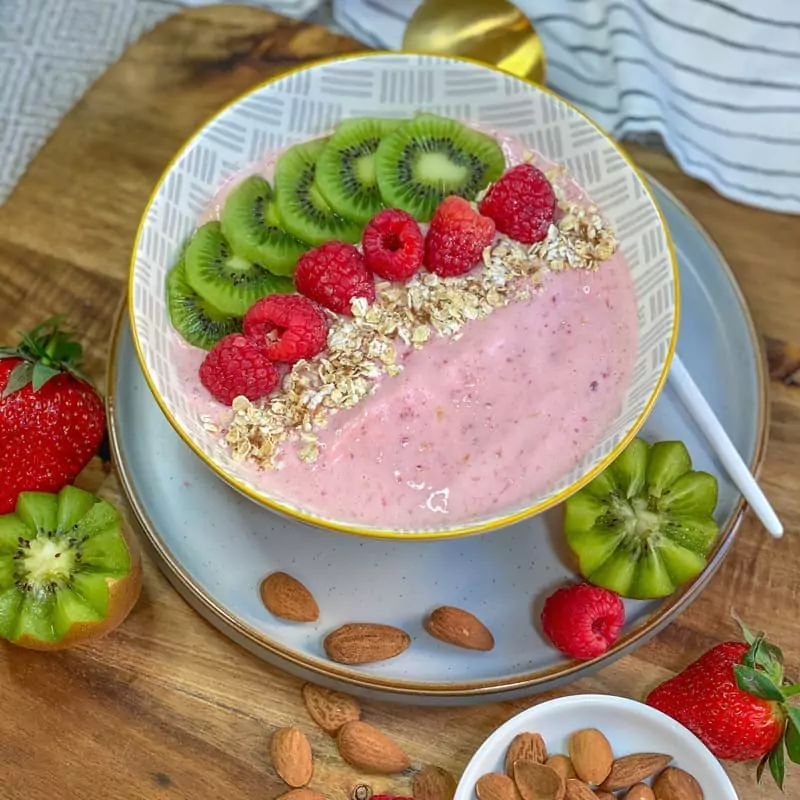 Calories and Macros
369 Calories
31g Protein
45g Carbohydrates
9g Fat
Ingredients
40 grams Frozen Strawberries
10 grams Oats
20 grams Vanilla Whey Protein (80%)
50 ml Almond Milk
20 grams Frozen Raspberries
1 medium Kiwifruit
120 grams Greek Yogurt (whole milk)
1/2 medium Frozen Banana
Instructions
Step 1: Take the frozen strawberries, the frozen banana, the yogurt, the protein powder, and the almond milk, and let them get to know each other in a blender or food processor as you lightly pulse.
Step 2: Once you have a delicious purée, spoon it into a breakfast bowl.
Step 3: Slice the kiwi and layer it on top with a couple of raspberries and a sprinkle of oats.
Step 4: Serve with a dash of cinnamon if you're feeling spicy.
Lunch
Ultimate Strength Salad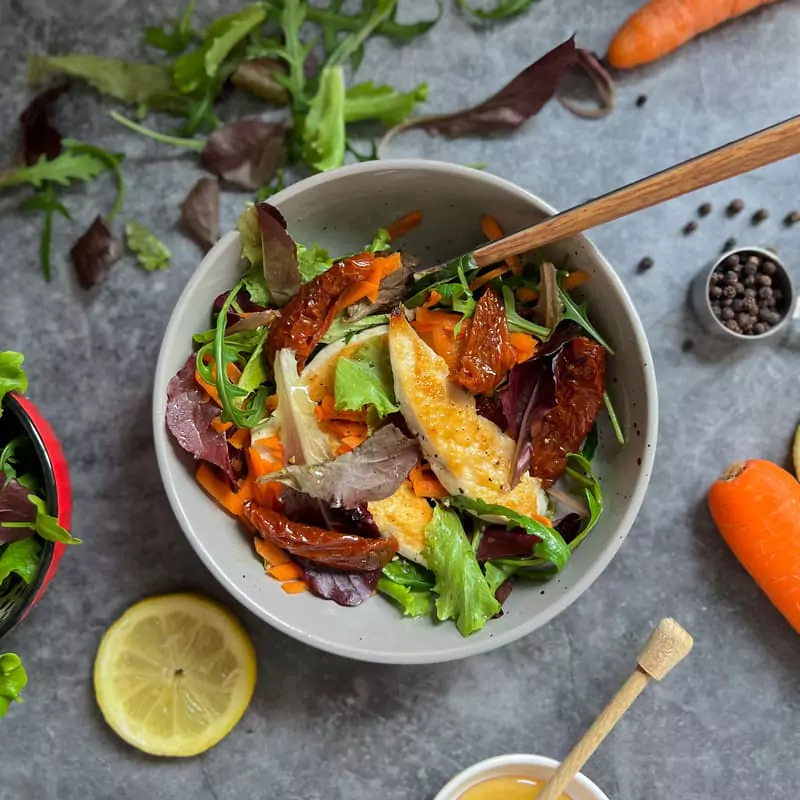 Calories and Macros
359 Calories
29g Protein
36g Carbohydrates
13g Fat
Ingredients
2 tsp Honey
50 grams Mixed Salad Leaves
30 grams Sun-Dried Tomatoes
1/2 tsp Dijon Mustard
1 medium Carrot
2 tsp Olive Oil
100 grams Chicken Breast
Instructions
Step 1: Slice your chicken and lightly fry in 1/2 the olive oil. Peel and shred that carrot on the side.
Step 2: Whisk the honey, mustard, and remaining olive oil to create a nice dressing.
Step 3: Toss the mixed leaves in a bowl with the honey mustard dressing and place into a bowl
Step 4: Layer the chicken, sun-dried tomatoes, and carrots on top and refrigerate for a few minutes to cool.
Step 5: Serve up!
Dinner
Spiced Chicken with Quinoa Tabbouleh
Calories and Macros
361 Calories
28g Protein
35g Carbohydrates
12g Fat
Ingredients
90 grams Chicken Breast
1 1/2 tsp Olive Oil
1/4 Cucumber
1/4 medium Red Bell Pepper
1/4 medium Red Onion
3 Cherry Tomatoes
1 pinch Chili Powder
1/4 tsp Cumin Powder
1 pinch Ground Coriander (cilantro)
40 grams Quinoa
70 ml Vegetable Stock/Broth

Instructions
Step 1: Preheat your oven to 200°C/fan 180°C (390°F). It's gonna be hot in there!
Step 2: Let's get that chicken prepped! Give it a good pat dry with some kitchen paper.
Step 3: Time to get spicy! Mix all spices and half the olive oil in a bowl. Let the chicken take a dip in this delicious marinade for 15 minutes. Let it soak up those flavors!
Step 4: While the chicken is getting cozy in its marinade, let's work on the quinoa. Cook it up in some vegetable stock according to the pack instructions. We're following the rules here!
Step 5: Once cooked, let the quinoa cool down a bit. We don't want it to be too hot to handle.
Step 6: Heat up the remaining oil in a frying pan. Let's give that chicken a nice sear, turning it around for about 5 minutes.
Step 7: Time to transfer that chicken to the big stage! Put it on a baking tray and let it cook through in the oven for 10-12 minutes.
Step 8: While the chicken is strutting its stuff in the oven, let's get back to the quinoa. In a large bowl, mix it up with some cucumber, tomato, chopped bell pepper and sliced red onion. Let's make it colorful and full of flavor! Remove the chicken from the oven and slice up!
Step 9: Plate up the quinoa mix and top it off with those juicy roasted chicken breast slices. Finish off with a dash of parsley if you have it!
Tuck in and enjoy!
Snack 1
Walnuts
For brain health!
Calories and Macros
131 Calories
3g Protein
3g Carbohydrates
13g Fat
Ingredients
20 grams Walnuts
Snack 2
Sunflower Seeds
Flower power, directly from the sun!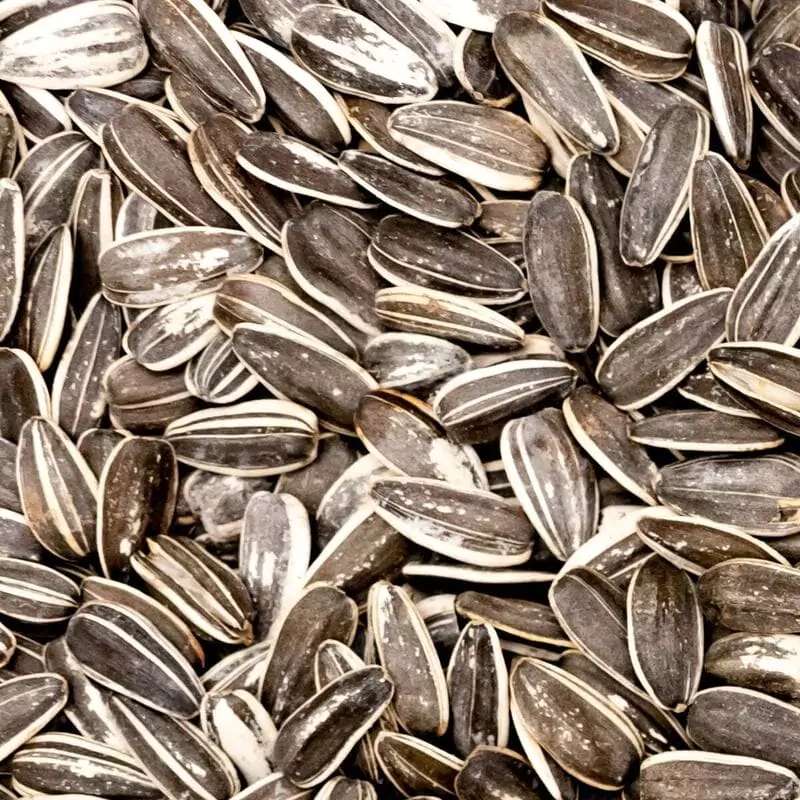 Calories and Macros
88 Calories
3g Protein
3g Carbohydrates
8g Fat
Ingredients
15 grams Sunflower Seeds
So, there you have it! A balanced, nutritious, and delicious 1,300-calorie gluten-free meal plan. Enjoy!