1,400 Calorie Gluten-Free Meal Plan
A 1,400 calorie gluten-free diet, carefully planned, can promote healthy eating habits for individuals with a lower activity level, aiming for weight loss. Be mindful that calorie needs vary, hence caloric intake should align with personal goals and lifestyle.
Who should try this diet?
People aiming for weight loss may find this low-calorie approach effective as it promotes a calorie deficit. However, if it leads to unwanted weight loss, consider adjusting your caloric intake.

1,500 Calorie Gluten-Free Meal Plan
1,600 Calorie Gluten-Free Meal Plan
1,700 Calorie Gluten-Free Meal Plan
Example plan
We've provided a printable 1,400 calorie gluten-free meal plan PDF, including recipes for breakfast, lunch, dinner, and snacks. It's structured over 5 meals (3 mains and 2 snacks).
Download the meal plan in the link above or continue reading for recipes.
Provides 1,425 kcal, 113g Protein, 137g Carbs, 49g Fat per day.
Breakfast
Matcha Chia Overnight Oats
Prepare the night before and you'll wake up like it's Saturday morning, every day!
Calories and Macros
438 Calories
39g Protein
48g Carbohydrates
12g Fat
Ingredients
1 medium Kiwifruit
1 Strawberry
80 grams Greek Yogurt (whole milk)
30 grams Vanilla Whey Protein (80%)
100 ml Almond Milk
30 grams Oats
1 tsp Honey
2 tsp Chia Seeds
1/2 tsp Matcha Powder

Instructions
Step 1: In a small bowl, whisk the matcha and warm water together until a smooth consistency is formed. 
Step 2: Take the yogurt, the protein powder, and the milk, and allow them to get well acquainted in a blender or food processor as you lightly pulse.
Step 3: Once you have a delicious blend, spoon it into a container or jar and mix in the matcha paste, oats, chia seeds, and honey. 
Step 4: Slice the kiwi and strawberry and layer them on top. Store in the fridge overnight!
Lunch
The Greek Chicken Stack!
Bring forth that Olympic power!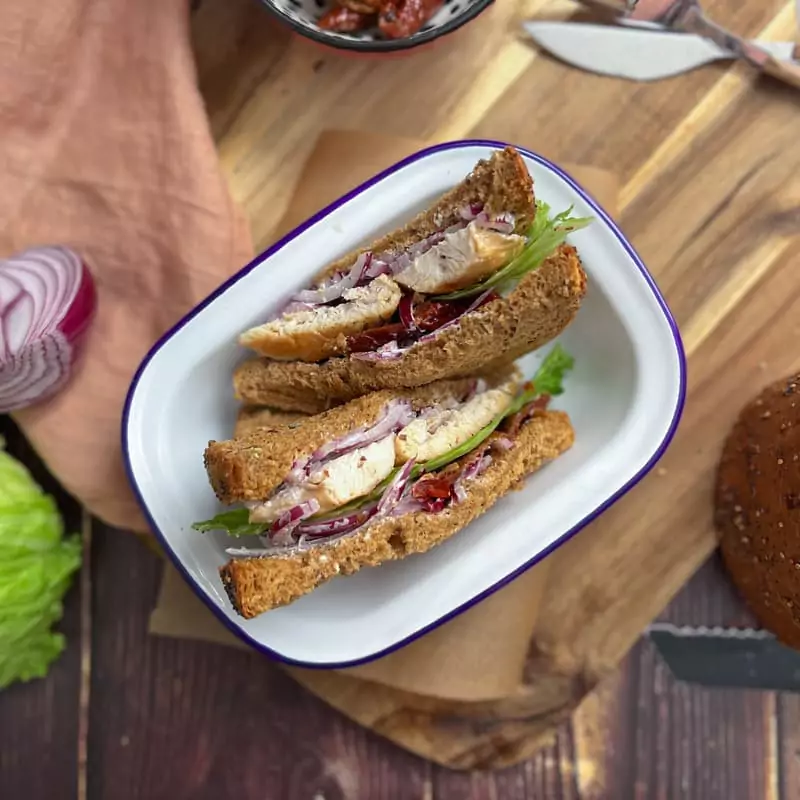 Calories and Macros
299 Calories
24g Protein
27g Carbohydrates
9g Fat
Ingredients
75 grams Chicken Breast
2 slices Gluten-free Multiseed Bread
1/4 medium Red Onion
2 pieces Sun-Dried Tomatoes
1 pinch Black Pepper
30 grams Greek Yogurt (whole milk)
1 leaf Iceberg Lettuce
1 pinch Salt
1 pinch Dried Oregano
Instructions
Step 1: Pre-grill your chicken and allow it to chill in the refrigerator before getting to work.
Step 2: Finely slice your red onion and place it into a bowl along with the Greek yogurt, salt, pepper, and oregano. Mix well.
Step 3: Lightly toast your whole grain bread to your preferred toastiness… (Toasting the bread removes the chances of a soggy sandwich!).
Step 4: Spread the yogurt mix evenly over each side before layering your sandwich as follows: bottom slice, chicken, lettuce, sliced sun-dried tomato, top slice.
Step 5: Eat and enjoy!
Dinner
One-Pot Chicken, Quinoa, Vege Success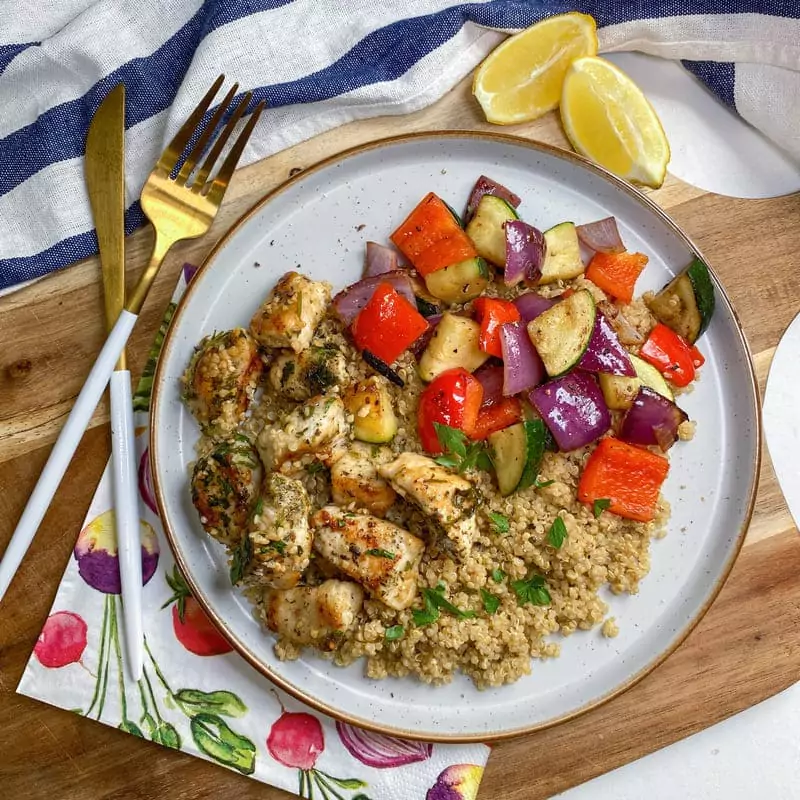 Calories and Macros
459 Calories
36g Protein
42g Carbohydrates
16g Fat
Ingredients
120 grams Chicken Breast
2 tsp Olive Oil
1/4 medium Courgette (zucchini)
1/2 medium Red Bell Pepper
1 pinch Sweet Smoked Paprika
1/4 tsp tsp Dried Rosemary
1/4 medium Red Onion
50 grams Quinoa
90 ml Vegetable Stock/Broth
2 cloves Garlic
1 pinch Salt
1 pinch Black Pepper

Instructions
Step 1: Grab a medium bowl and toss in that chicken beast. Sprinkle on some rosemary, smoked paprika, salt, and pepper. Give it a good toss to coat the chicken in all those delicious flavors.
Step 2: Time to heat things up! Grab a large non-stick skillet and heat up half the olive oil over medium-high heat. Add in the chicken and let it sizzle for 2 minutes on each side. Transfer those juicy chicken pieces to a plate and resist the urge to snack on them just yet!
Step 3: Don't stop the sizzle! Add the other half of olive oil to the skillet and throw in some roughly chopped onion, courgette, and red bell pepper. Let them get all tender and delicious for about 4 to 5 minutes. Then, toss in some sliced garlic and let it cook for 1 minute. Your kitchen will be smelling amazing by now!
Step 4: Time to add in the quinoa and broth. Stir it all into the veggie mix and bring it to a boil. Once it's bubbling, cover it up, reduce the heat, and let it simmer for 10 minutes.
Step 5: Nestle the chicken back into the quinoa party and let it cook (covered) for another 20 minutes until the liquid is absorbed and the chicken is cooked through.
Step 6: The chicken is ready to make its grand exit to a plate. But don't forget about the quinoa! Stir in some fresh spinach to add a pop of color and nutrition. Serve it all up with your chicken superstar and season to taste.
Snack 1
Walnuts
For brain health!
Calories and Macros
98 Calories
2g Protein
2g Carbohydrates
10g Fat
Ingredients
15 grams Walnuts
Snack 2
Frozen Watermelon Rosemary Smoothie
This one's pretty refreshing!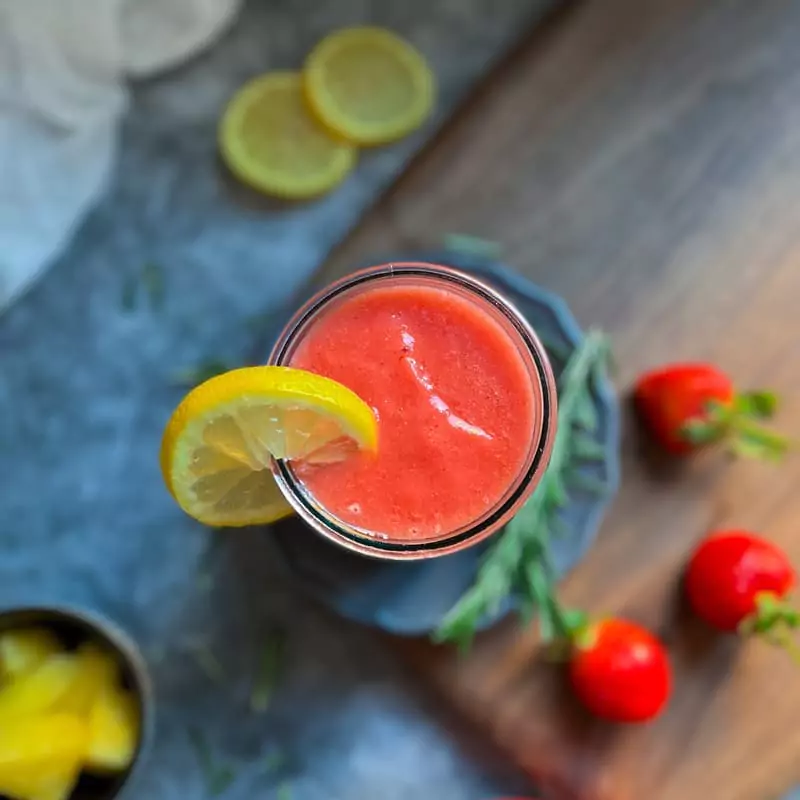 Calories and Macros
131 Calories
12g Protein
18g Carbohydrates
2g Fat
Ingredients
125 grams Watermelon
1 wedge Lemon
25 grams Strawberries
100 ml Soy Milk
1/4 tsp Dried Rosemary
10 grams Vanilla Whey Protein (80%)
Instructions
Step 1: To start, chop the seedless watermelon first then set it aside. Grate the zest of the lemon.
Step 2: Combine all of the ingredients in the blender and place on high for 30 seconds, or until you achieve an even consistency.
Step 3: Pour into your glass and garnish with rosemary and a slice of lemon according to your liking! Enjoy!
So, there you have it! A balanced, nutritious, and delicious 1,400-calorie gluten-free meal plan. Enjoy!