1,300 Calorie Vegetarian Meal Plan
A 1,300 calorie vegetarian diet, carefully planned, can promote healthy eating habits for individuals aiming for weight loss. Be mindful that calorie needs vary, hence caloric intake should align with personal goals and lifestyle.
Who should try this diet?
People aiming for weight loss may find this low-calorie approach effective as it promotes a calorie deficit. However, if it leads to unwanted weight loss, consider adjusting your caloric intake.

1,400 Calorie Vegetarian Meal Plan
1,500 Calorie Vegetarian Meal Plan
1,600 Calorie Vegetarian Meal Plan
Example plan
We've provided a printable 1,300 calorie vegetarian meal plan PDF, including recipes for breakfast, lunch, dinner, and snacks. It's structured over 5 meals (3 mains and 2 snacks).
Download the meal plan in the link above or continue reading for recipes.
Provides 1,282 kcal, 82g Protein, 114g Carbs, 60g Fat per day.
Breakfast
Pineapple Punch Power Smoothie
Ideally, use chilled or even frozen pineapple and banana for this splendid tropical treat.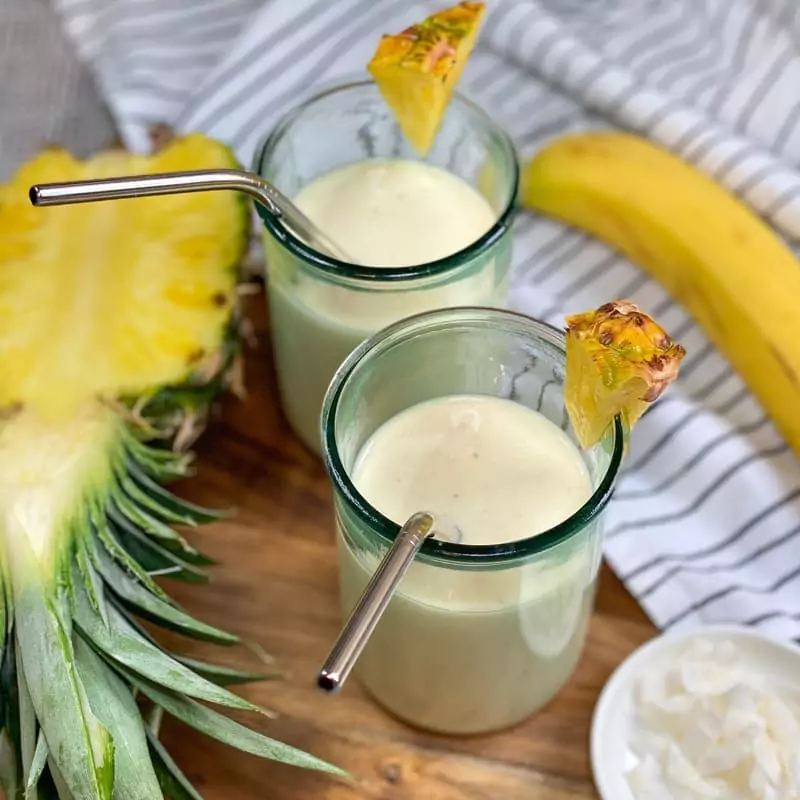 Calories and Macros
424 Calories
40g Protein
53g Carbohydrates
8g Fat
Ingredients
40 grams Pineapple
1 1/2 medium Bananas
250 ml Almond Milk
50 grams Greek Yogurt (whole milk)
40 grams Vanilla Whey Protein (80%)
Instructions
Step 1: Place all ingredients into that little beast of a blender and securely fasten the lid.
Step 2: Blend thoroughly for around 15 – 30 seconds while gradually adding water (if necessary) to create desired consistency.
Step 3: Pour into a glass for a smoothie that will take you on vacation!
Lunch
Classy Caprese Salad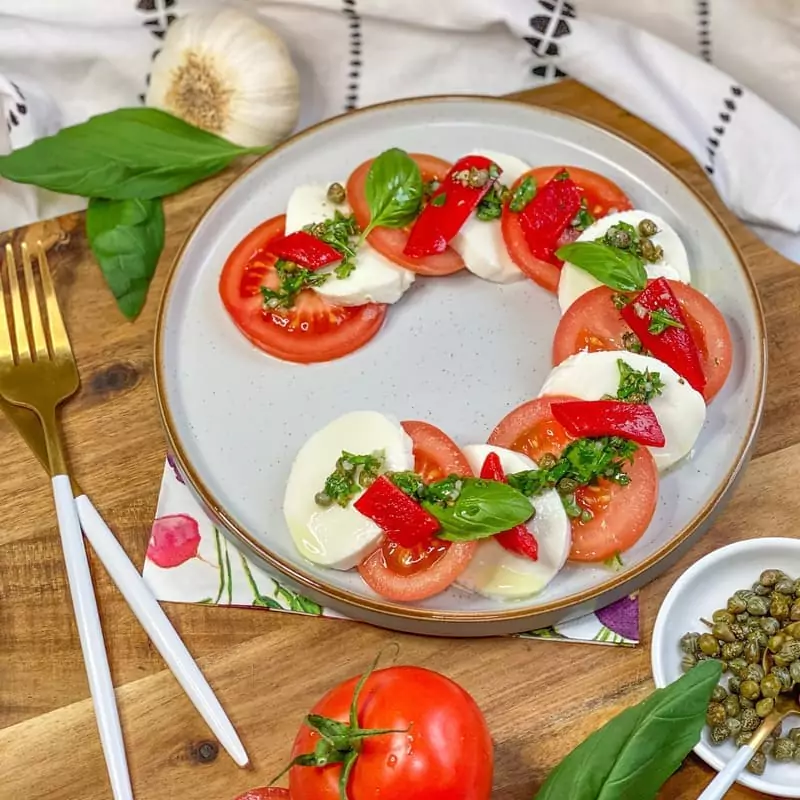 Calories and Macros
328 Calories
19g Protein
18g Carbohydrates
21g Fat
Ingredients
1 tsp chopped Parsley
1 tsp drained Capers (canned)
1 clove Garlic
1 tsp Olive Oil
1 Whole Wheat Tortilla
1 1/2 medium Tomatoes
70 grams Mozzarella Cheese
5 grams Basil Leaves
1 medium Red Bell Pepper
1 dash Dried Oregano
Instructions
Step 1: The first thing you're going to do is slice that tomato, mozzarella, and the red pepper. Mince your garlic too!
Step 2: Finely slice your parsley and drain your capers.
Step 3: Take out a small bowl and mix the parsley, oregano, garlic, capers, and olive oil to create your dressing.
Step 4: You're now ready to get creative! Arrange the mozzarella slices and tomato in super stylish presentation. Throw the basil leaves over the top like a Michelin star chef, with nothing but pure class.
Step 5: Finally, top everything off with the dressing, drizzled like a boss.
Dinner
Mediterranean Burrito
Loaded with protein and Mediterranean flavour!
Calories and Macros
387 Calories
20g Protein
30g Carbohydrates
21g Fat
Ingredients
2 medium Eggs
1 tsp Olive Oil
1 Whole Wheat Tortilla
10 grams Baby Spinach
5 grams Black Olives
10 grams Sun-Dried Tomatoes
15 grams Feta Cheese
20 grams Black Beans (canned)
Instructions
Step 1: Heat your oil in a non-stick pan over a medium temperature
Step 2: Whisk the egg in a bowl on the side while things heat up!
Step 3: Scramble the eggs in the pan for about 5 minutes, or until the majority of liquid becomes solid, slice up your black olives, sun-dried tomatoes, and spinach on the side
Step 4: Throw the olives, spinach, tomatoes, and beans into the pan along with the egg and toss together
Step 5: After about 2 minutes of cooking, add the feta cheese to the party
Step 6: Once the cheese has melted a little, lay out your tortilla and evenly spread the mixture onto each
Step 7: Roll up and serve with a little hot sauce on the side (because you're damn spicy)
Et Voilà!
Snack 1
Watermelon
Treat yourself to another slice, or two…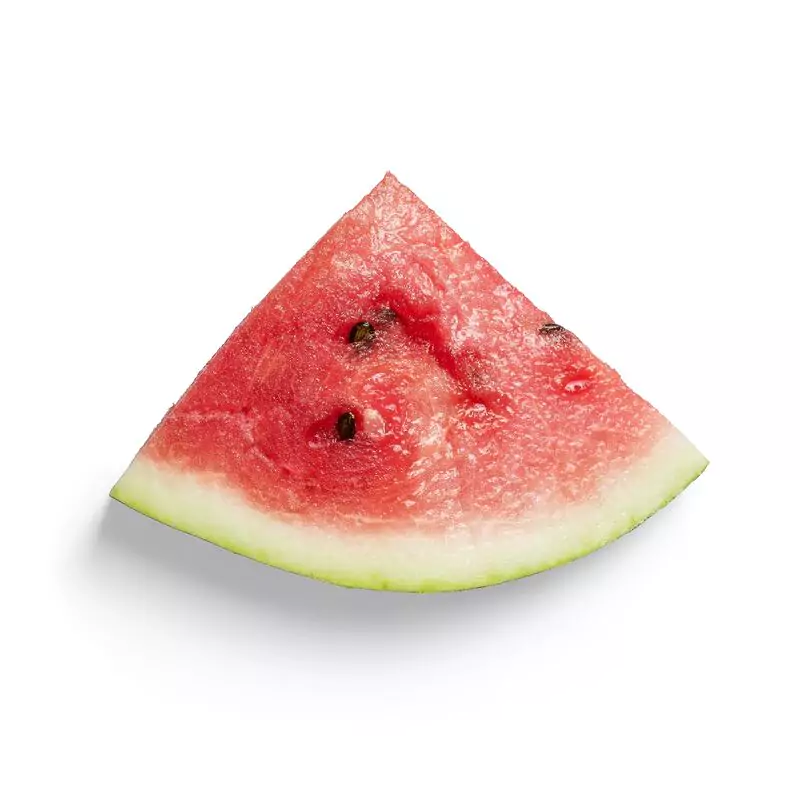 Calories and Macros
45 Calories
1g Protein
11g Carbohydrates
0g Fat
Ingredients
150 grams Watermelon
Snack 2
Walnuts
For brain health!
Calories and Macros
98 Calories
2g Protein
2g Carbohydrates
10g Fat
Ingredients
15 grams Walnuts
So, there you have it! A balanced, nutritious, and delicious 1,300-calorie vegetarian meal plan. Enjoy!