1,700 Calorie Pescatarian Meal Plan
A 1,700 calorie pescatarian diet, carefully planned, can promote healthy eating habits for individuals aiming for weight loss. Be mindful that calorie needs vary, hence caloric intake should align with personal goals and lifestyle.
Who should try this diet?
If you're focused on losing weight, a diet that aims for an average of 1,700 calories can be a highly effective approach. This calorie level provides ample energy to support your daily activities and exercise routines, while creating enough of a caloric deficit to encourage weight loss.
Of course, this amount of calories should only be followed by individuals with a moderate level of activity.
However! It's important to keep in mind that everyone's calorie requirements are unique. Therefore, determining the appropriate daily calorie intake based on your specific goals, whether it be losing fat, building muscle, or adopting a healthy lifestyle, is paramount for success.
If following this style of meal plan creates unwanted weight loss, it may be necessary to increase total calories consumed accordingly.
Realized that perhaps you need to be eating more calories? Try one of these free meal plans:
1,800 Calorie Pescatarian Meal Plan
1,900 Calorie Pescatarian Meal Plan
2,000 Calorie Pescatarian Meal Plan
Example plan
We've provided a printable 1,700 calorie pescatarian meal plan PDF, including recipes for breakfast, lunch, dinner, and snacks. It's structured over 5 meals (3 mains and 2 snacks).
Download the meal plan in the link above or continue reading for recipes.
Provides 1,688 kcal, 96g Protein, 178g Carbs, 70g Fat per day.
Breakfast
Overnight Vanilla Yogurt Oats
Are you ready for something that will power you through until noon?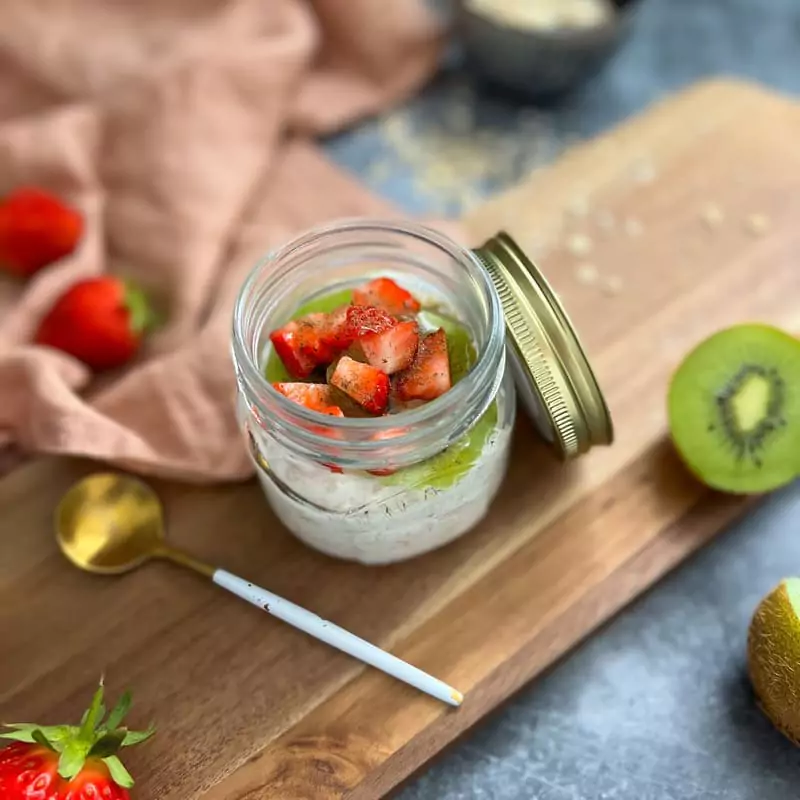 Calories and Macros
506 Calories
33g Protein
56g Carbohydrates
18g Fat
Ingredients
1/5 tsp Vanilla Extract
300 grams Greek Yogurt (whole milk)
2 tsp Honey
2 Strawberries
30 grams Oats
1 dash Cinnamon
1 Kiwifruit
Instructions
Step 1: As simple as it's going to get! In the evening, mix the yogurt, oats, and vanilla extract (just a few drops!) in a jar or tupperware.
Step 2: When the morning rolls round, simply mix in a little honey and cinnamon, and serve topped with your sliced kiwi and strawberries!
Step 3: Enjoy!
Note: If you feel the oats are a little dry, add in a tablespoon of milk!
Lunch
Prawn Toast Delight!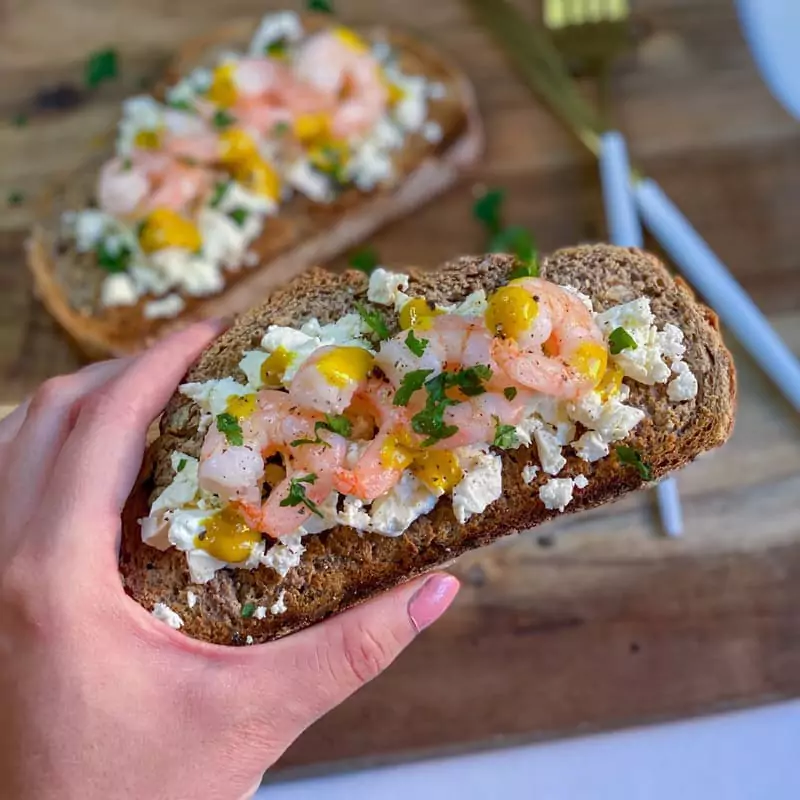 Calories and Macros
506 Calories
34g Protein
56g Carbohydrates
16g Fat
Ingredients
60 grams Prawns (cooked)
4 slices Whole Grain Bread
50 grams Feta Cheese
2 tsp Parsley
2 tsp Dijon Mustard (whole grain)
Instructions
Step 1: Place your bread into a toaster and let things heat up… ohh yeah, let it get all toasty.
Step 2: Once the bread has made its sexy transformation, crumble the feta cheese on top
Step 3: Evenly layout your prawns and then sprinkle with a little parsley and mustard for the win!
Dinner
Salmon with Roasted Sweet Potatoes and Pepper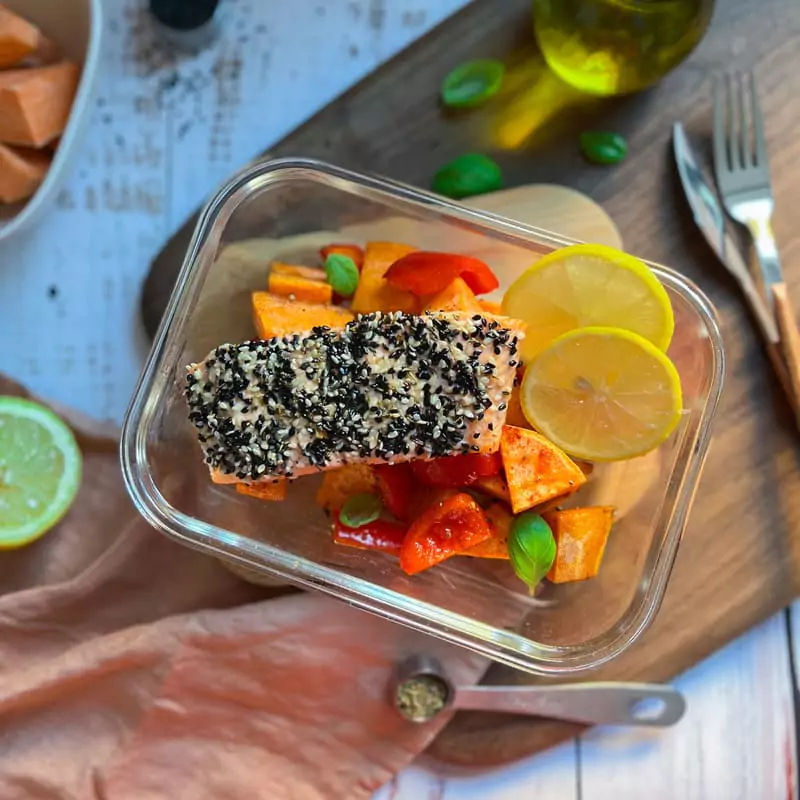 Calories and Macros
438 Calories
24g Protein
34g Carbohydrates
23g Fat
Ingredients
1 medium Red Bell Pepper
125 grams Sweet Potato
2 tsp Olive Oil
1 pinch Salt
100 grams Atlantic Salmon
1 wedge Lemon
1/2 tsp Paprika
1/2 tsp Dried Oregano Leaves

Instructions
Step 1: Preheat the oven to 200c (400f). Then place some parchment paper onto a baking tray.
Step 2: Slice the bell pepper and sweet potato and then lay them onto the paper. Drizzle with half the olive oil, the paprika, and half the salt then toss to coat. Spread out into an even layer. Put the sheet pan inside the oven and let her roast for 10 minutes!
Step 3: On the second sheet pan, place the salmon and coat evenly with the remaining olive oil. Drizzle the salmon with a little lemon juice and then pat with a little salt and oregano!
Step 4: After the pepper and sweet potato is nicely cooked, remove the baking sheet, place the 2nd baking sheet inside the oven then set the timer for 10 minutes.
Step 5: Serve up! Or, if meal prepping, portion the sweet potatoes into your food containers then put even portions of salmon into each. Cover and refrigerate for up to 3 days.
Snack 1
Cashew Nuts
A handful of health!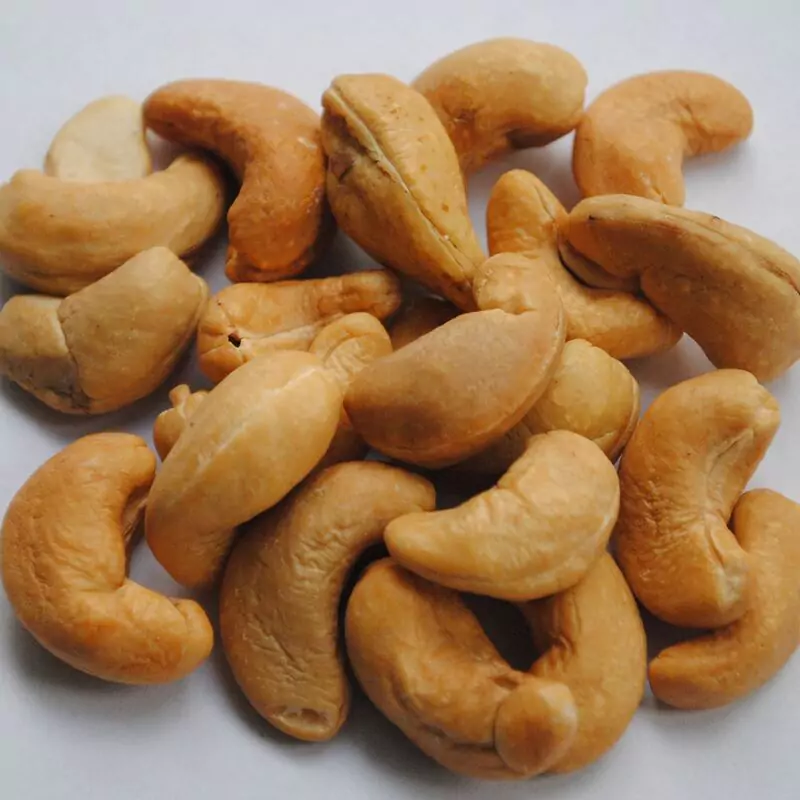 Calories and Macros
83 Calories
3g Protein
5g Carbohydrates
7g Fat
Ingredients
15 grams Cashew Nuts
Snack 2
Apple and Mixed Nuts Power!
Calories and Macros
155 Calories
2g Protein
27g Carbohydrates
6g Fat
Ingredients
1 Apple
10 grams Mixed Nuts
Instructions
Step 1: Eat the apple and the mixed nuts. All of them.
So, there you have it! A balanced, nutritious, and delicious 1,700-calorie pescatarian meal plan. Enjoy!