2,000 Calorie Pescatarian Meal Plan
A 2,000 calorie pescatarian diet, carefully planned, can promote healthy eating habits for individuals aiming for weight loss or maintenance. Be mindful that calorie needs vary, hence caloric intake should align with personal goals and lifestyle.
If you are trying to lose weight, this amount of calories should only be followed by individuals with a higher level of activity.
It's important to keep in mind that everyone's calorie requirements are unique. Therefore, determining the appropriate daily calorie intake based on your specific goals, whether it be losing fat, building muscle, or adopting a healthy lifestyle, is paramount for success.
Realized that perhaps you need to be eating less calories? Try these free meal plans:
1,600 Calorie Pescatarian Meal Plan
1,700 Calorie Pescatarian Meal Plan
1,800 Calorie Pescatarian Meal Plan
1,900 Calorie Pescatarian Meal Plan
Example plan
We've provided a printable 2,000 calorie pescatarian meal plan PDF, including recipes for breakfast, lunch, dinner, and snacks. It's structured over 5 meals (3 mains and 2 snacks).
Download the meal plan in the link above or continue reading for recipes.
Provides 2,016 kcal, 138g Protein, 185g Carbs, 85g Fat per day.
Breakfast
Strawberry Banana Green Smoothie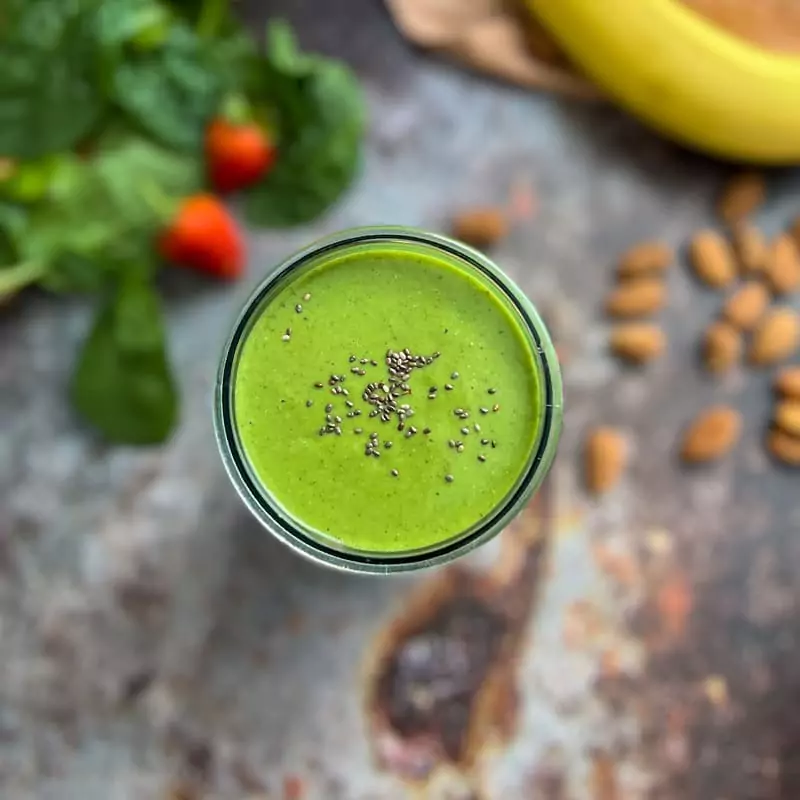 Calories and Macros
555 Calories
23g Protein
82g Carbohydrates
19g Fat
Ingredients
2 Bananas
30 grams Baby Spinach
150 grams Greek Yogurt (whole milk)
250 ml Almond Milk
2 tbsp Chia Seeds
10 Frozen Strawberries
Instructions
Step 1: Put the sliced banana and strawberries first in an upright blender, and run at a medium speed. Wait until it gets that smooth texture.
Step 2: Add the rest of the ingredients to the blender and run again at a medium speed until it mixes well.
Step 3: Serve up in your favourite glass and enjoy!
Lunch
Tangy Strawberry and Peanut Butter on Toast
Something new that you'll definitely want to try again!
Calories and Macros
601 Calories
27g Protein
63g Carbohydrates
30g Fat
Ingredients
8 Strawberries
50 grams Peanut Butter
4 slices Whole Grain Bread
1 dash Ground Cinnamon
Instructions
Step 1: Place your bread into a toaster and let things heat up while you slice your strawberries on the side.  
Step 2: Once the bread has made the incredible transition into toast, spread the peanut butter nice and evenly before topping off with the sliced strawberries and a dash of cinnamon.  
Step 3: Let the crunch begin.
Dinner
Classic Turkish One-Pan Menemen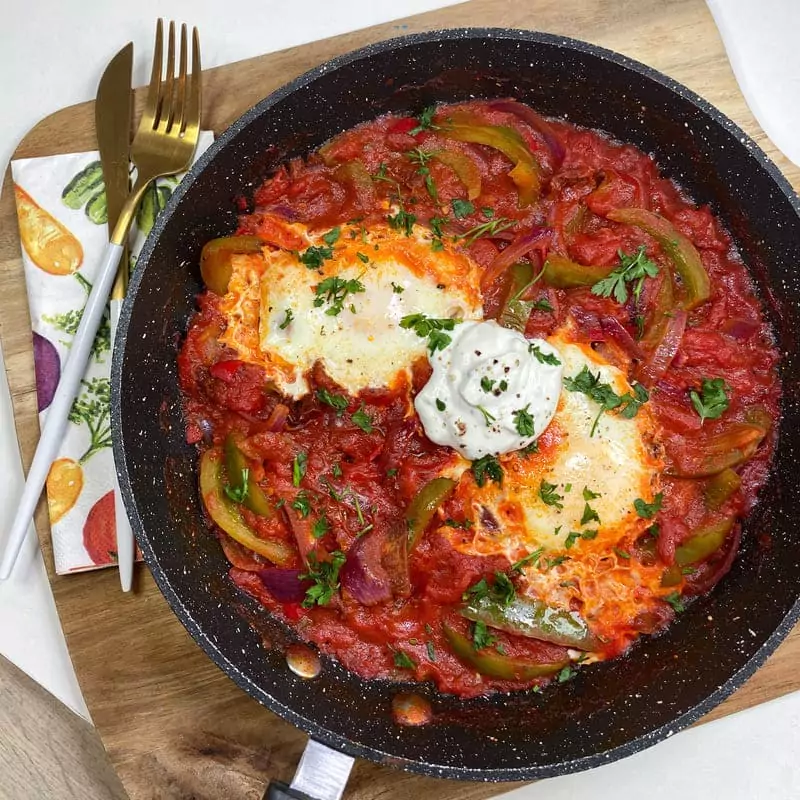 Calories and Macros
523 Calories
26g Protein
55g Carbohydrates
26g Fat
Ingredients
1 tbsp Olive Oil
1 medium Onion
1/2 medium Green Bell Pepper
1 Red Chilli Pepper
220 grams Chopped Tomatoes
40 grams Sun-Dried Tomatoes
1 tsp Brown Sugar
1 tbsp chopped Parsley
3 tbsp Greek Yogurt (whole milk)
2 cloves Garlic
2 Eggs

Instructions
Step 1: Chop the onion and bell pepper into bite-size slices and set aside.
Step 2: Finely slice the garlic and chilli and set to the other side.
Step 3: Heat the oil in a heavy-based frying pan over a medium temperature.
Step 4: Stir in the onions, bell pepper, and chilies and allow them all to become very well acquainted in the pan for about 3 minutes. Season with a little salt and pepper here too!
Step 5: Add the canned tomatoes and the sugar and bring to a light simmer to reduce the liquid. Then, add the sun-dried tomatoes and stir.
Step 6: Using a wooden spoon, create pockets that will hold the eggs.
Step 7: Crack an egg into each pocket, reduce the heat to low, and cover the pan. Allowing the eggs to set.
Step 8: While you wait, beat the finely-sliced garlic into the yogurt and season well.
Step 9: Serve the menemen with some parsley sprinkled over the top and a dollop of the garlicky yogurt on the side.
Snack 1
Chocolate Protein and Refreshing Watermelon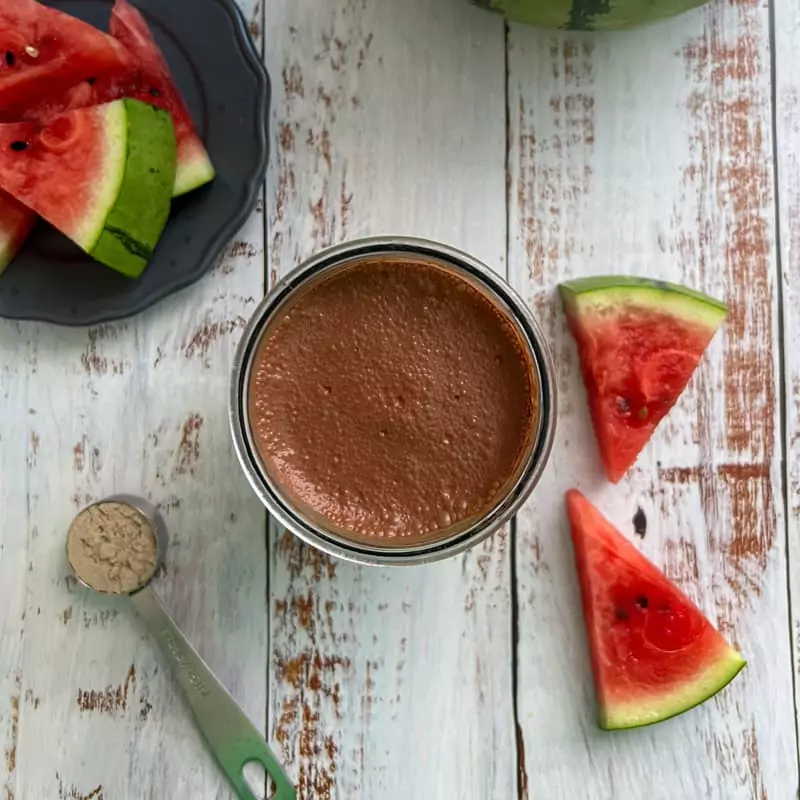 Calories and Macros
214 Calories
28g Protein
20g Carbohydrates
3g Fat
Ingredients
25 grams Chocolate Whey Protein (80%)
200 ml Milk
90 grams Watermelon
Instructions
Step 1: Thoroughly mix the protein powder with the milk along with a little additional water if necessary.
Step 2: Serve up with the watermelon on the side!
This snack is one in a melon…
Snack 2
Almonds
Serve on the side, plant protein power!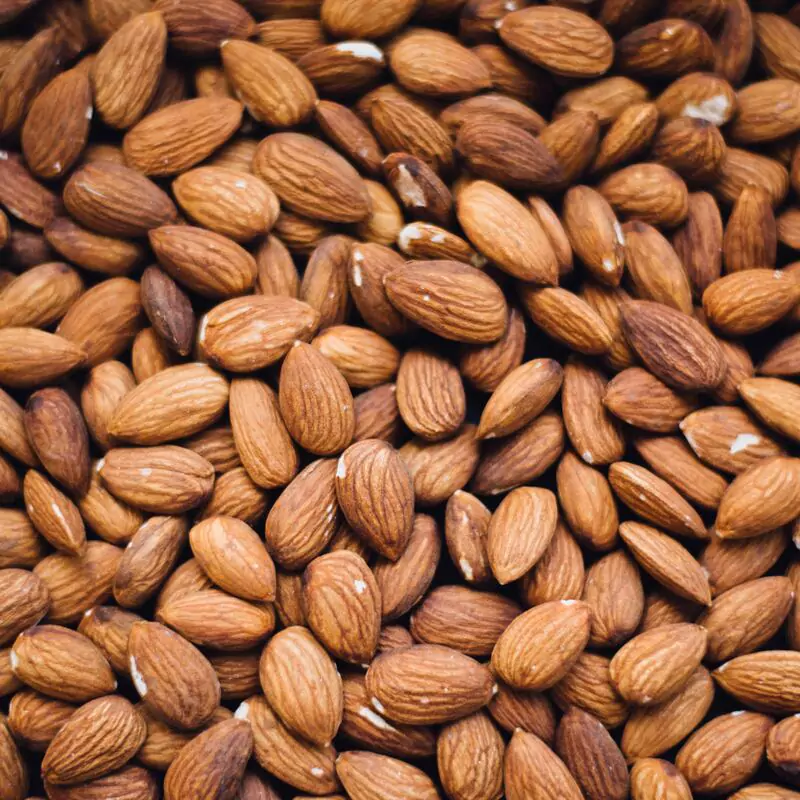 Calories and Macros
145 Calories
5g Protein
5g Carbohydrates
12g Fat
Ingredients
25 grams Almonds
So, there you have it! A balanced, nutritious, and delicious 2,000-calorie pescatarian meal plan. Enjoy!