1,800 Calorie Vegetarian Meal Plan
A 1,800 calorie vegetarian diet, carefully planned, can promote healthy eating habits for individuals aiming for weight loss. Be mindful that calorie needs vary, hence caloric intake should align with personal goals and lifestyle.
Who should try this diet?
If you're focused on losing weight, a diet that aims for an average of 1,800 calories can be a highly effective approach. This calorie level provides ample energy to support your daily activities and exercise routines, while creating enough of a caloric deficit to encourage weight loss.
Of course, this amount of calories should only be followed by individuals with a moderate level of activity.
However! It's important to keep in mind that everyone's calorie requirements are unique. Therefore, determining the appropriate daily calorie intake based on your specific goals, whether it be losing fat, building muscle, or adopting a healthy lifestyle, is paramount for success.
If following this style of meal plan creates unwanted weight loss, it may be necessary to increase total calories consumed accordingly.
Realized that perhaps you need to be eating more calories? Try one of these free meal plans:
1,900 Calorie Vegetarian Meal Plan
2,000 Calorie Vegetarian Meal Plan
Example plan
We've provided a printable 1,800 calorie vegetarian meal plan PDF, including recipes for breakfast, lunch, dinner, and snacks. It's structured over 5 meals (3 mains and 2 snacks).
Download the meal plan in the link above or continue reading for recipes.
Provides 1,829 kcal, 95g Protein, 161g Carbs, 103g Fat per day.
Breakfast
Chocolate Peanut Butter Delight Smoothie
Ideally, use a chilled or even a frozen banana for this awesome chocolatey nutty surprise.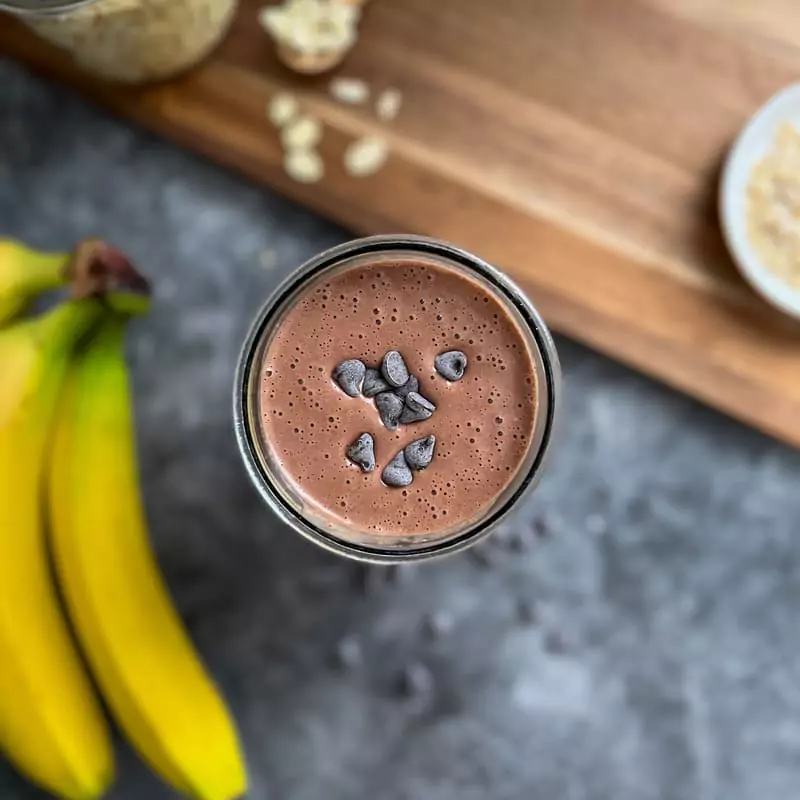 Calories and Macros
525 Calories
37g Protein
56g Carbohydrates
22g Fat
Ingredients
1 1/2 medium Banana
1 1/2 tbsp Cocoa Powder (unsweetened)
30 grams Peanut Butter (smooth)
350 ml Almond Milk
30 grams Chocolate Whey Protein (80%)
Instructions
Step 1: Place all ingredients into your blender companion and securely fasten the lid.
Step 2: Blend thoroughly for around 15 – 30 seconds while gradually adding water (if necessary) to create desired consistency.
Step 3: Pour into a glass for a treat that ignites your taste buds and boosts your health!
Lunch
Start-Up Power Salad Bowl
That power you need to start your day!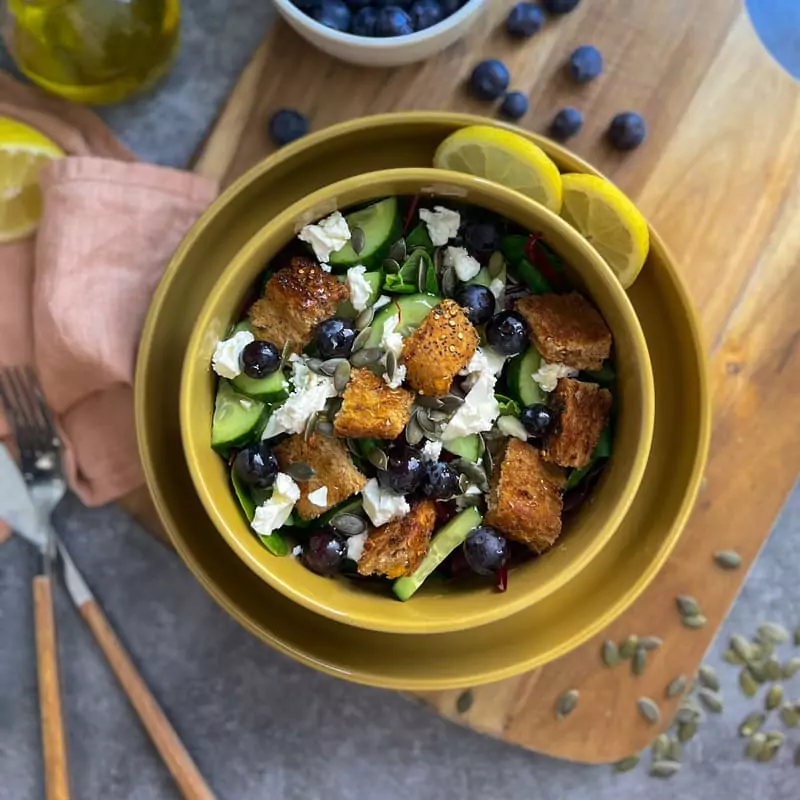 Calories and Macros
513 Calories
23g Protein
47g Carbohydrates
28g Fat
Ingredients
2 slices Whole Grain Bread
50 grams Mixed Salad Leaves
50 grams Cucumber
20 grams Pumpkin Seeds
1 tsp Olive Oil
50 grams Feta Cheese
50 grams Blueberries
1 tsp Honey
1 wedge Lemon
Instructions
Step 1: Lightly toast the bread before tearing it into bite-size pieces.
Step 2: Slice the cucumber and then create a bed of leaves in a bowl.
Step 3: Layer the cucumber on the leaves before crumbling the feta cheese on top followed by the bread and a sprinkle of pumpkin seeds and blueberries.
Step 4: Finally, drizzle with a little olive oil, honey, and a touch of lemon juice before tucking in!
Dinner
Roasted Butternut Squash and Tofu Salad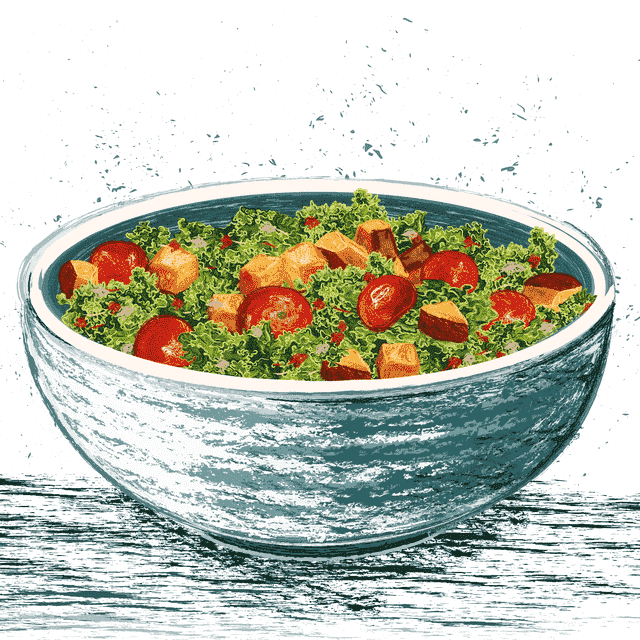 Calories and Macros
503 Calories
26g Protein
33g Carbohydrates
34g Fat
Ingredients
120 grams Butternut Squash
120 grams Tofu
2 tsp Olive Oil
1/2 tsp Ground Oregano
1/2 tsp Dried Rosemary
1/2 tsp Garlic Powder
80 grams Mixed Salad Leaves
1 wedge Lemon
5 Black Olives
4 pieces Sun-Dried Tomatoes
1 tsp Balsamic Vinegar
20 grams Pumpkin Seeds

Instructions
Step 1: Preheat that glorious oven to 180c (350f)
Step 2: Chop your butternut squash and tofu into 1-inch cubes
Step 3: Place those 1-inch cubes into a mixing bowl along with ½ the olive oil and all those fragrant herbs and spices, yummy. Season with a little salt and pepper and mix to coat.
Step 4: Spread the squash and tofu evenly on a baking tray and place into the oven for 25 – 30 minutes
Step 5: Chop your olives and sun-dried tomatoes into happy slices
Step 6: Place the salad leaves in a bowl and drizzle with the remaining olive oil, the juice from the lemon, and the balsamic vinegar
Step 7: Layer the squash on top along with the sun-dried tomatoes, olives, and sunflower seeds
Enjoy!
Snack 1
Almonds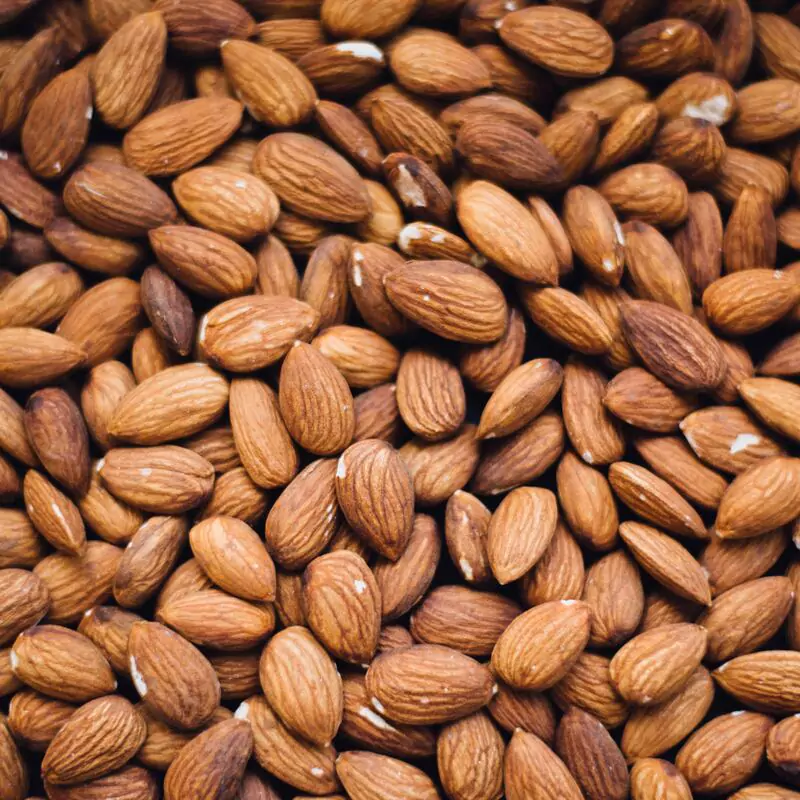 Calories and Macros
116 Calories
4g Protein
4g Carbohydrates
10g Fat
Ingredients
20 grams Almonds
Snack 2
Orange and Cashew Power!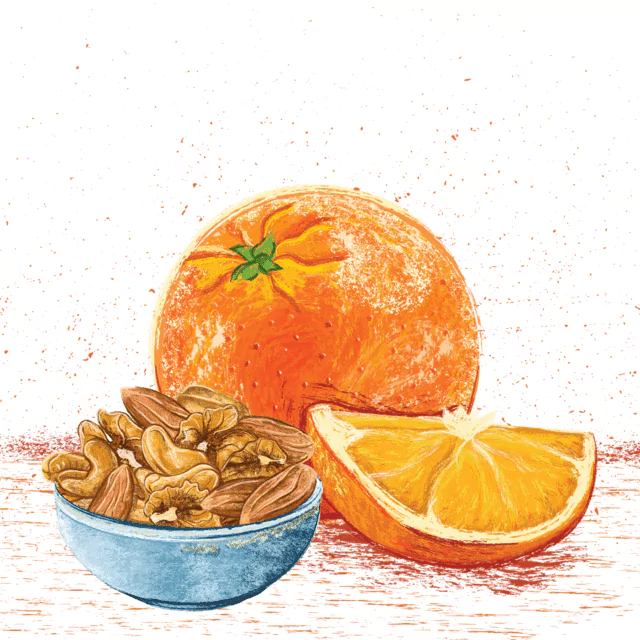 Calories and Macros
172 Calories
5g Protein
21g Carbohydrates
9g Fat
Ingredients
1 Orange
20 grams Cashew Nuts
Instructions
Step 1: Eat the orange and the cashew nuts. All of them
Did you know that Spain has over 35 million orange trees? Imagine all those oranges!
So, there you have it! A balanced, nutritious, and delicious 1,800-calorie vegetarian meal plan. Enjoy!