1,900 Calorie Gluten-Free Meal Plan
A 1,900 calorie gluten-free diet, carefully planned, can promote healthy eating habits for individuals aiming for weight loss. Be mindful that calorie needs vary, hence caloric intake should align with personal goals and lifestyle.
Who should try this diet?
If you're focused on losing weight, a diet that aims for an average of 1,900 calories can be a highly effective approach. This calorie level provides ample energy to support your daily activities and exercise routines, while creating enough of a caloric deficit to encourage weight loss.
Of course, this amount of calories should only be followed by individuals with a moderate level of activity.
However! It's important to keep in mind that everyone's calorie requirements are unique. Therefore, determining the appropriate daily calorie intake based on your specific goals, whether it be losing fat, building muscle, or adopting a healthy lifestyle, is paramount for success.
If following this style of meal plan creates unwanted weight loss, it may be necessary to increase total calories consumed accordingly.
Realized that perhaps you need to be eating more calories? Try this free meal plan:
2,000 Calorie Gluten-Free Meal Plan
If you are not losing enough weight, try one of these plans:
1,700 Calorie Gluten-Free Meal Plan
1,800 Calorie Gluten-Free Meal Plan
Example plan
We've provided a printable 1,900 calorie gluten-free meal plan PDF, including recipes for breakfast, lunch, dinner, and snacks. It's structured over 5 meals (3 mains and 2 snacks).
Download the meal plan in the link above or continue reading for recipes.
Provides 1,912 kcal, 131g Protein, 190g Carbs, 73g Fat per day.
Breakfast
Frozen Strawberry Breakfast Protein Bowl
Are you ready for a morning treat that rivals coffee? This one will have you ready for the day in a jiffy.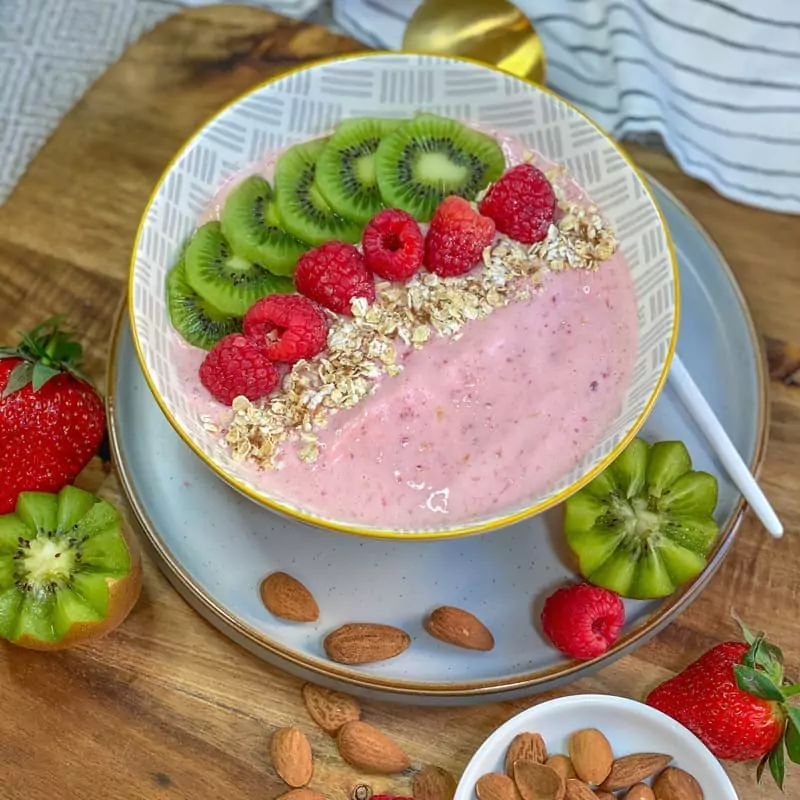 Calories and Macros
535 Calories
42g Protein
72g Carbohydrates
11g Fat
Ingredients
40 grams Frozen Strawberries
30 grams Oats
30 grams Vanilla Whey Protein (80%)
150 ml Almond Milk
30 grams Frozen Raspberries
1 medium Kiwifruit
100 grams Greek Yogurt (whole milk)
1 medium Frozen Banana
Instructions
Step 1: Take the frozen strawberries, the frozen banana, the yogurt, the protein powder, and the almond milk, and let them get to know each other in a blender or food processor as you lightly pulse.
Step 2: Once you have a delicious purée, spoon it into a breakfast bowl.
Step 3: Slice the kiwi and layer it on top with a couple of raspberries and a sprinkle of oats.
Step 4: Serve with a dash of cinnamon if you're feeling spicy.
Lunch
One-Pan Chicken and Brown Rice with Vegetables
Calories and Macros
512 Calories
38g Protein
50g Carbohydrates
19g Fat
Ingredients
100 grams Chicken Breast
3 tsp Olive Oil
1/4 medium Courgette (zucchini)
3 medium White Button Mushrooms
4 Cherry Tomatoes
1/4 medium Red Onion
1 clove Garlic
40 grams Brown Rice
80 ml Chicken Stock
1/4 tsp Garlic Powder
1/4 tsp Sweet Smoked Paprika
1/4 tsp Dried Parsley
1 pinch Salt
1 pinch Black Pepper
Instructions
Step 1: It's seasoning time! Get that chicken all spiced up with some salt, pepper, garlic powder, paprika, and dried parsley.
Step 2: Time to heat things up! Grab a skillet and heat up half the olive oil over medium heat. It's about to get sizzling!
Step 3: Sear the chicken for 3-4 minutes per side until it's no longer pink and almost cooked through. We're getting that beautiful golden crust!
Step 4: Transfer that tasty chicken to a plate.
Step 5: Add the remaining olive oil to the pan and toss in some chopped red onions, mushrooms, courgettes, tomatoes, and garlic. Let them dance around for 3-4 minutes until half of the liquid released from the mushrooms has evaporated.
Step 6: Time to bring in the rice (quinoa also works well) and chicken stock! Add them to the party in the pan. Bring it all to a boil, then reduce the heat to medium-low and cover it up. Let it simmer and work its flavor magic for 10-12 minutes, until most of the liquid has been absorbed.
Step 7: Let's add some color with peas! Stir them in and then bring back the chicken to the pan. Cover it up and let it cook for 4-5 more minutes on medium-low, making sure the chicken is fully cooked through.
Serve up and enjoy!
Dinner
Cheesy Baked Beefy Meatballs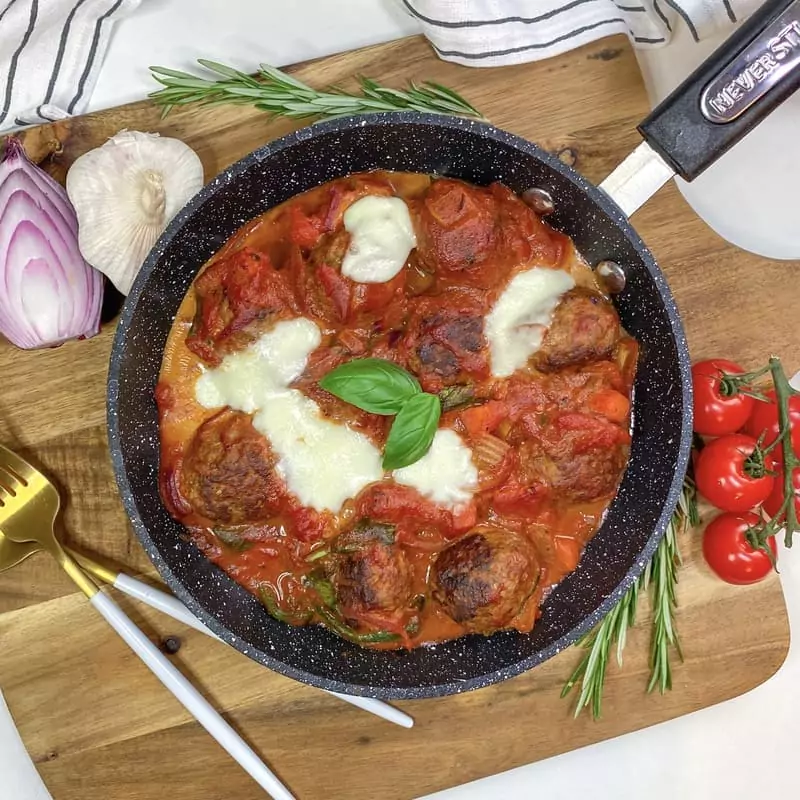 Calories and Macros
527 Calories
40g Protein
40g Carbohydrates
20g Fat
Ingredients
100 grams Ground Beef (5% fat)
1 Egg
25 grams Gluten-Free Breadcrumbs
1/2 medium Onion
1 tsp Sweet Smoked Paprika
1 tsp Olive Oil
1 medium Carrot
2 cloves Garlic
1/2 tsp Dried Rosemary
1 stalk Celery
25 ml Red Wine
90 grams Chopped Tomatoes (canned)
50 grams Tomato Passata
20 ml Milk (1% fat)
30 grams Spinach
20 grams Mozzarella Cheese (whole milk)

Instructions
Step 1: Start off by finely slicing your onion and garlic. Then, chop your carrot and celery into 1-cm (ish) cubes.
Step 2: In a medium-sized mixing bowl, place the beef mince, half the sliced onion, egg, breadcrumbs, rosemary, half the garlic, and half the paprika.
Step 3: Mix with a spoon to combine well. Season a little with salt and pepper.
Step 4: Form the mince mixture into ping-pong-sized meatballs and lay them on a plate. Then, place them in the fridge to chill for around 10 minutes.
Step 5: Line a baking tray or oven-proof dish with half the olive oil and preheat your oven to 180°C.
Step 6: Heat the remaining oil in a large frying pan over medium-high heat.
Step 7: Add meatballs to the frying pan and cook for around 5 minutes ensuring they're browning evenly on each side. Once they're well browned, transfer to a plate on the side.
Step 8: Using the same pan throw in the remaining onion, carrot, celery, remaining garlic, and remaining paprika. Stir for around 5 mins or until the onion softens and becomes translucent.
Step 9: Add the wine and allow the mix to come to a nice simmer before adding the canned tomato, passata, and milk.
Step 10: Stir to ensure all is combined and bring to a gentle simmer. Once the liquid begins to reduce, remove from the heat, season, and add the spinach.
Step 11: Place the meatballs into the baking tray, and pour the tomato mix over the meatballs in the baking tray.
Step 12: Shred the mozzarella over the top and place it in the oven to bake for between 20 and 25 minutes.
Step 13: When the mozzarella has browned and the liquid has reduced to a creamy consistency, you're ready to roll!
Step 14: Serve up and enjoy!
Snack 1
Orange and Pumpkin Seed Power!
Calories and Macros
117 Calories
4g Protein
16g Carbohydrates
5g Fat
Ingredients
1 Orange
10 grams Pumpkin Seeds
Instructions
Step 1: Eat the orange and the pumpkin seeds. All of them.
Did you know that the yellow-orange flowers that bloom on a pumpkin vine are edible too?
Snack 2
Cashew Nuts
A handful of health!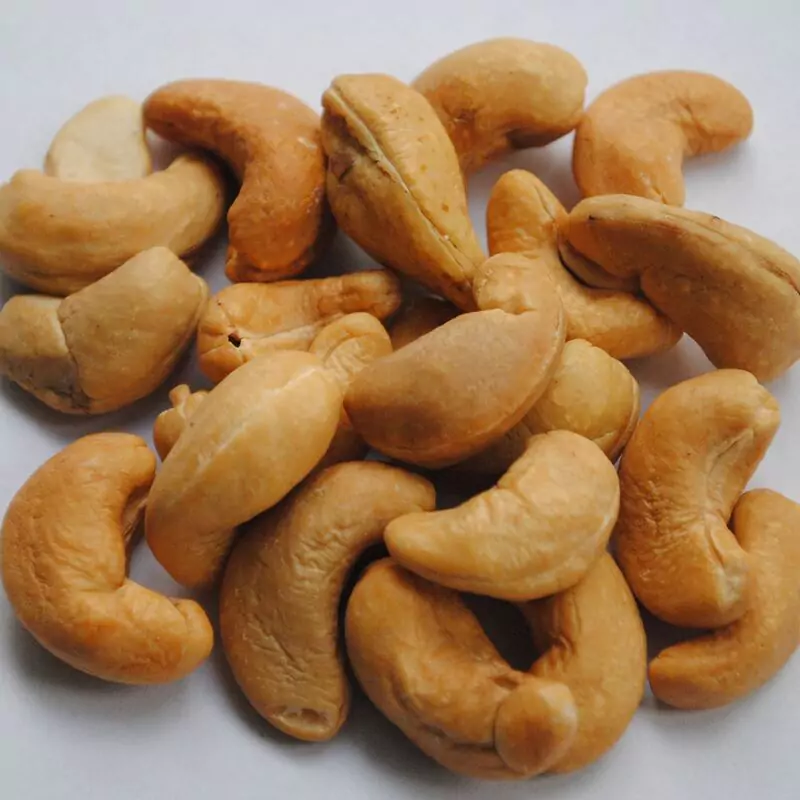 Calories and Macros
221 Calories
7g Protein
12g Carbohydrates
18g Fat
Ingredients
40 grams Cashew Nuts
So, there you have it! A balanced, nutritious, and delicious 1,900-calorie gluten-free meal plan. Enjoy!