2,000 Calorie Gluten-Free Meal Plan
A 2,000 calorie gluten-free diet, carefully planned, can promote healthy eating habits for individuals aiming for weight loss or maintenance. Be mindful that calorie needs vary, hence caloric intake should align with personal goals and lifestyle.
If you are trying to lose weight, this amount of calories should only be followed by individuals with a higher level of activity.
It's important to keep in mind that everyone's calorie requirements are unique. Therefore, determining the appropriate daily calorie intake based on your specific goals, whether it be losing fat, building muscle, or adopting a healthy lifestyle, is paramount for success.
Realized that perhaps you need to be eating less calories? Try these free meal plans:
1,600 Calorie Gluten-Free Meal Plan
1,700 Calorie Gluten-Free Meal Plan
1,800 Calorie Gluten-Free Meal Plan
1,900 Calorie Gluten-Free Meal Plan
Example plan
We've provided a printable 2,000 calorie gluten-free meal plan PDF, including recipes for breakfast, lunch, dinner, and snacks. It's structured over 5 meals (3 mains and 2 snacks).
Download the meal plan in the link above or continue reading for recipes.
Provides 2,016 kcal, 138g Protein, 185g Carbs, 85g Fat per day.
Breakfast
Peanut Power Oatmeal!
One of the simplest meals on Earth!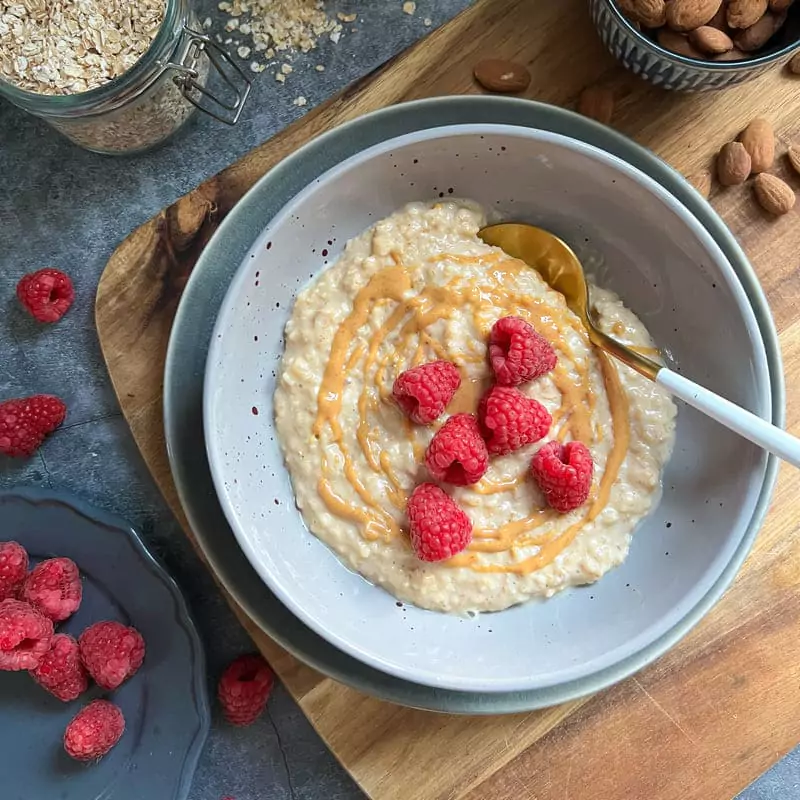 Calories and Macros
603 Calories
44g Protein
59g Carbohydrates
24g Fat
Ingredients
30 grams Peanut Butter
60 grams Oats
30 grams Vanilla Whey Protein (80%)
225 ml Almond Milk
75 grams Raspberries
Instructions
Step 1: Mash all ingredients together in a bowl except the raspberries
Step 2: Place the bowl in the microwave for 1 minute
Step 3: Serve with the raspberries on top!
Step 4: Get your feed on.
Lunch
Quinoa, Egg, and Smoked Salmon Salad
Calories and Macros
537 Calories
31g Protein
55g Carbohydrates
22g Fat
Ingredients
75 grams Quinoa
150 ml Vegetable stock
30 grams Arugula (Rocket)
1/4 Avocado
1 tsp Dried Parsley
1 wedge Lemon
1 tsp Olive Oil
70 grams Smoked Salmon
1 Egg
Instructions
Step 1: Bring the vegetable stock to boil in a sexy saucepan and then add your quinoa.
Step 2: Allow to cook for 10 – 12 minutes adding more water if when necessary to soften the quinoa.
Step 3: On the side, heat a small pan over a medium heat.
Step 4: Add half of the olive oil and lightly fry the egg to preferred doneness.
Step 5: While the egg's a fryin', cube the avocado and finely slice the parsley. Oh yeahhhhh.
Step 6: In a bowl, mix the cooked quinoa with the rocket, parsley, cubed avocado, and smoked salmon (just tear it apart with your hands when adding).
Step 7: Lay the egg on top, drizzle with some lemon juice, spice up with a little salt and pepper, and you're away!
Dinner
Spiced Chicken with Quinoa Tabbouleh
Calories and Macros
545 Calories
38g Protein
51g Carbohydrates
21g Fat
Ingredients
120 grams Chicken Breast
3 tsp Olive Oil
1/4 Cucumber
1/2 medium Red Bell Pepper
1/4 medium Red Onion
4 Cherry Tomatoes
1 pinch Chili Powder
1 pinch Cumin Powder
1 pinch Ground Coriander (cilantro)
60 grams Quinoa
110 ml Vegetable Stock/Broth

Instructions
Step 1: Preheat your oven to 200°C/fan 180°C (390°F). It's gonna be hot in there!
Step 2: Let's get that chicken prepped! Give it a good pat dry with some kitchen paper.
Step 3: Time to get spicy! Mix all spices and half the olive oil in a bowl. Let the chicken take a dip in this delicious marinade for 15 minutes. Let it soak up those flavors!
Step 4: While the chicken is getting cozy in its marinade, let's work on the quinoa. Cook it up in some vegetable stock according to the pack instructions. We're following the rules here!
Step 5: Once cooked, let the quinoa cool down a bit. We don't want it to be too hot to handle.
Step 6: Heat up the remaining oil in a frying pan. Let's give that chicken a nice sear, turning it around for about 5 minutes.
Step 7: Time to transfer that chicken to the big stage! Put it on a baking tray and let it cook through in the oven for 10-12 minutes.
Step 8: While the chicken is strutting its stuff in the oven, let's get back to the quinoa. In a large bowl, mix it up with some cucumber, tomato, chopped bell pepper and sliced red onion. Let's make it colorful and full of flavor! Remove the chicken from the oven and slice up!
Step 9: Plate up the quinoa mix and top it off with those juicy roasted chicken breast slices. Finish off with a dash of parsley if you have it!
Tuck in and enjoy!
Snack 1
Almonds
Serve on the side, plant protein power!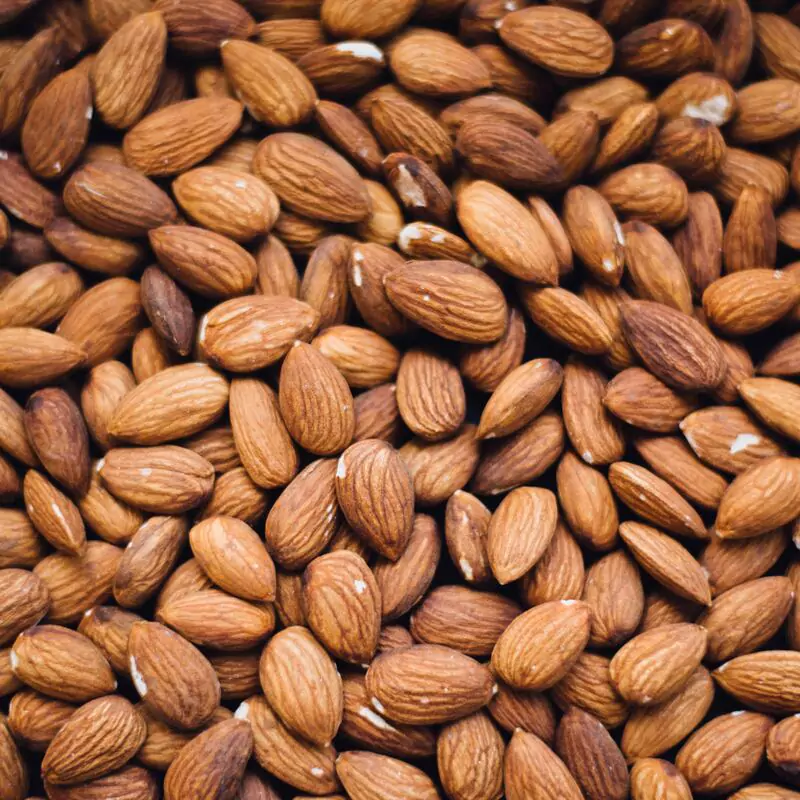 Calories and Macros
174 Calories
6g Protein
6g Carbohydrates
15g Fat
Ingredients
30 grams Almonds
Snack 2
Vanilla Protein and Sweet Strawberries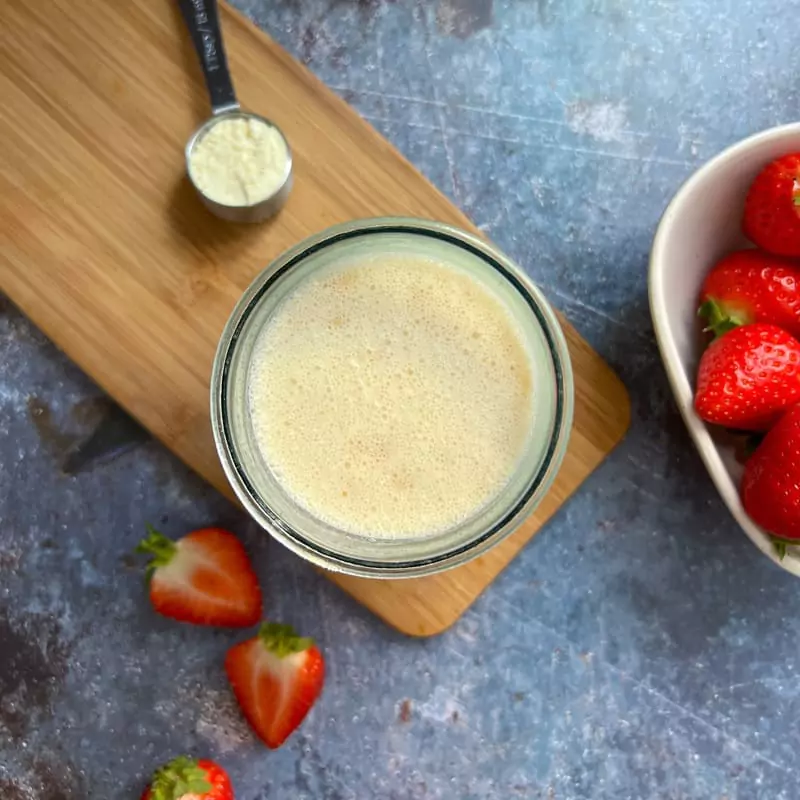 Calories and Macros
157 Calories
19g Protein
14g Carbohydrates
3g Fat
Ingredients
15 grams Vanilla Whey Protein (80%)
200 ml Milk (1% fat)
30 grams Strawberries
So, there you have it! A balanced, nutritious, and delicious 2,000-calorie gluten-free meal plan. Enjoy!